I recently won a Feb 1974 "Sports Scoop" Hobby publication on eBay. While browsing through it, I noticed the following ad (I love to look at cards and prices several years back). Notice Lot #3. This is a group of Nadja St. Louis players. The seller mistakenly listed these as E104's. However, these are the St. Louis E92 Nadjas we know them as today. This shows that these cards were "known" before the supposed "finds" by Fritsch or Lipset in the 1980's!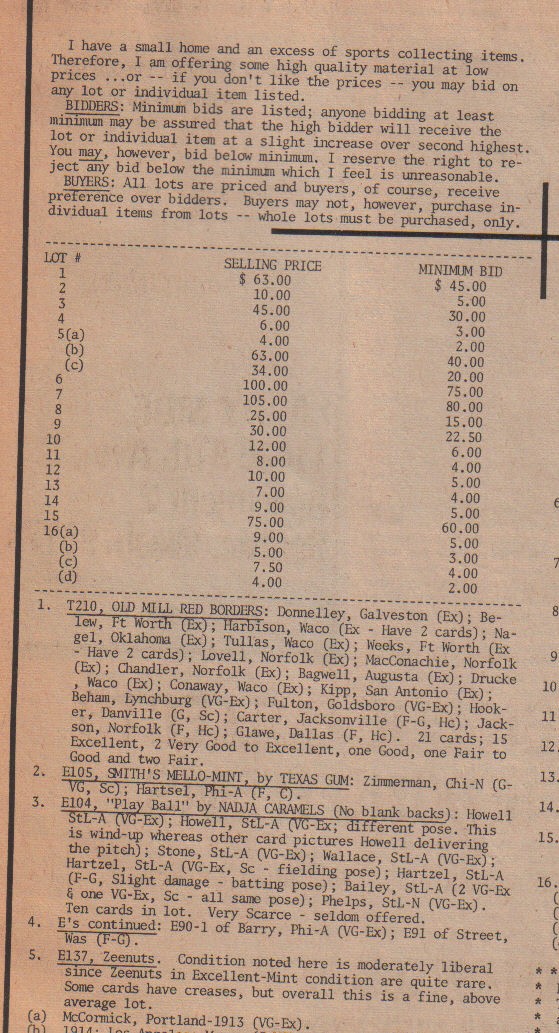 scott elkins

Inactive




Posts

: 581


Trader Points

:





It's interesting that he lists them as e104s as there are no St Louis players in the e104-3 set.

Jay
The person selling these was Steve Mitchell - from Seattle, WA.

scott elkins

Inactive




Posts

: 581


Trader Points

:





I love seeing the old sales and prices as well. Just curious, what was in lots 6,7, and 15? Relatively pricey lots, must have been something nice
Here ya go Ben. Starting with lot 6, there were no more cards in the auction.

Lot 6 - over 300 "The Sporting News" issues from 1954 - 1969.
Lot 7 - "The Sporting News" Baseball Registers: 1945, 1956-71 and 1973
Lot 15 - "Beautiful Old Exhibit Card Machine"

Ben, it certainly brings back memories looking through the old prices of cards - especially these for me, as this was four years before I began collecting.

I remember the big "Mantle Craze" in the early 80's. People at the flea markets and shows were complaining that you couldn't get a Mantle card for under $10 any longer! I looked everywhere for a "deal" on a Mantle then and finally found a FR/GD 1968 Mantle for $7 or $8 from a flea market dealer. I hated the card, but had to buy it b/c it was a Mantle card under $10. I also remember the next year buying a NM 59 Topps Koufax and NM 63 Fleer May for $16 (for the pair). That was the day another dealer at the flea market had EX/MT 1915 Cracker Jacks of Ty Cobb and Joe Jackson for the WHOPPING AMOUNT of $100 each. Too bad I only had the $16 with me that day, as I really wanted the Cobb (at the time, the Cobb was actually listed for more than the Jackson in the price guides).

scott elkins

Inactive




Posts

: 581


Trader Points

:





Very cool info and excellent eyes Jay!

r337man

MVP





Posts

: 433


Trader Points

:





Similar topics
---
Permissions in this forum:
You
cannot
reply to topics in this forum