While browsing Dave Levin's website for an OJ mini scan, I came across this scan of a Yum Yum Anson from the "Indianapolis Find":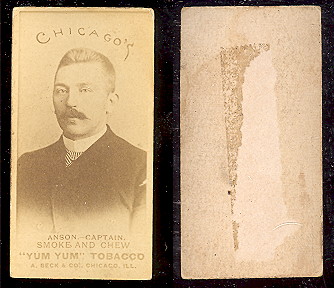 Interesting card. Doesn't look a thing like Anson. Am I delusional, or is this another player? If so, who is it? Anyone know?
Second question. I'd like to hear some more about this fantastic find. The scans on Dave's site are really spectacular. Here's the
LINK
to some scans and here's the caption on his site that describes the find briefly:
This section starts the presentation of the Indianapolis find. J. E. Woodward of Greenville Ill. He collected these cards as a young teenager, and the collection was discovered by his granddaughter and made its way into the hobby for the first time July 19, 2006. You will see there are many rare cards in this find!
I have contacted Dave about this discussion, so hopefully he can chime in with some more details about the Anson and the find in general!
The Yum Yum of Anson actually pictures Ned Williamson.

Jacklitsch

All Star





Posts

: 149


Trader Points

:





OK here's the deal. David is in Thailand right now and isn't able to access the forum. But he did send me a great email response to the question and asked me to post it here for him. So here it is:
here is the story

regarding the yum yum card, it was bought by one of my better clients who
already had one, but this would be a slight upgrade for him, and that would
allow him to use the other one as trade material.

it is ned williamson.

Regarding the story of the find

The site that I have displays over 1,000 images of old judge cards and has
lots of content so I am placed very high on the search engines when a search
is made for old judge.

Like the Oregon find, these cards were in the possession of a 93 year old
woman and the cards belonged to her father originally. The original owner
lived in Chicago when the cards were acquired which may account for the fact
that there were a lot of cards from the teams a little further west,
milwaukee in particular which has some very difficult cards indeed.

The woman was being moved out of her home by her kids to a convelescent
home. These cards were found among tons of other old collectible stuff as
it appears she never threw anything out. The daughter was in her mid 50s,
and it was her husband that contacted me.
I received a call from a gentleman claiming to have over 200 cards which he
claimed were in fairly good condition. I receive many calls of this type
and normally they are false alarms. After a short phone conversation he
said he would get back to me and did not leave me a way to contact him.
So, I did not hear back from him right away and forgot about him altogether.
About three or four months later as I was strolling through a Longs Drugs,
my cel goes off and it is a gentleman, the same guy saying he was calling
back. Honestly I had forgotten the original conversation and it wasnt until
he repeated something that I would have said that I finally remembered that
I had spoken to him. Still not overly excited, I asked him to send a fax of
the names of the players that he had.

I spoke to him in generallities of what the value of the cards would most
likely be assumming that they were mostly common cards.

Later that evening, I received the list. The list was impressive to say the
least, Anson was listed, but not as a yum yum so no excitement there, but
when I saw the name cusick, I literally fell out of my chair. I got up, sat
down again and a few names later was a davin????? hmmmm, then forster and
later veach. Hmmmmm, I started to think that this had to be some sort of
reprint list of cards or something, how could a small 218 card collection
have these four cards? Anyway, I spoke to him, he seemed to know he had
some good cards, but, he had no idea which ones they were. He thought the
hof names were the good ones. I asked him to send about 30 scans which he
did. Several of the super rare cards were previously unknown poses so at
that point I knew they could not be reprints.
As you can see, that aside from the impossible cards there was also Galvin,
McPhea as well as many louisville players and other tough cards, and these
cards were in beautiful condition. They had these cards unprotected in a
small cigar box which would not close. The St. Louis Browns cards were all
pasted onto a board, the rest were just nicely placed in a box.
I spent the rest of the night negotiating for the cards. I started off with
an offer significantly higher than what I had told him they may be worth,
but then a phantom brother got into the scene. I never spoke to him, and
really do not know if he exists, but they kept saying he was interested in
taking them to Chicago to an auction house. So, now I had to start trying
to convince them that they should take the cash now rather than wait and pay
the auction house fees and have to wait for the money.

As we went back and forth, or should I say forth, as I kept raising my offer
and getting no where, I finally asked her to ask her brother just what he
though he would get out of them, in other works, what did he want.
I received a number that was just a little higher than my last offer, so, I
lowered that number by $2,000 and asked if I came there to Indianapolis with
that much money, would we have a deal? Another phone call later, I was told
we would, but not tomorrow, the next day. So, as I sat on pins and needles
waiting, I did get on the plane two days later, off to Indianapolis and we
met in a hotel room at the airport where we made an exchange. I was only in
Indianapolis for about three hours or so. The hotel was at the airport, and
when we finished they dropped me off at the airport and I was home by
midnight.

Just an added note, I was told that the brother had taken a certain unknown
number of these cards to show at some type of fair show at some time. He
still had them in his home when it burned down with those cards in it, so
who knows what may have been lost out of this collection.


Thanks for your interest


David Levin

Awesome.
I've never heard the actual story from David before. That was very nice, thank you for sharing Ben.
AndyH
I found it interesting that David mentioned Cusick as a "fall out of his chair" type of rarity. Ditto for Davin, Forster, and Veach. Can anyone flesh out some detail on these four N172's? Are they on rare teams or do they belong to an especially tough subseries as described in Lee's thread?
Similar topics
---
Permissions in this forum:
You
cannot
reply to topics in this forum