Is this N173 Keefe authentic?
Was anyone watching the N173 Keefe that ended on ebay a few days ago? From the scan it looked good to me, but the description made me shy away in the end. I submitted a request for a better scan, and a scan was promised, but it was never sent.
If the card turns out to be good, someone's gamble just paid off big time and I'll be doing alot of this
http://cgi.ebay.com/ws/eBayISAPI.dll?ViewItem&item=390206003486&ssPageName=STRK:MEWAX:IT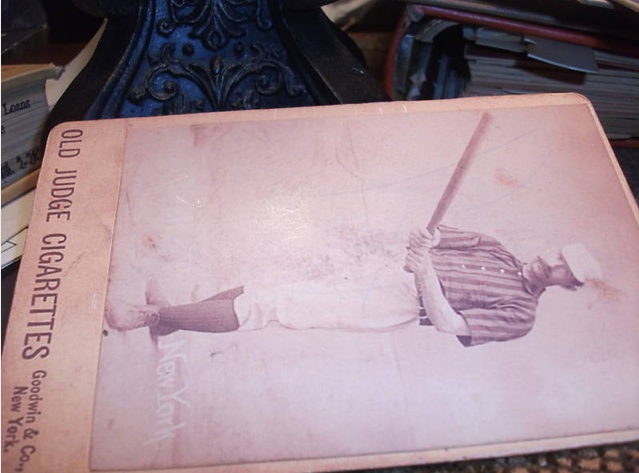 There seems to be a fair numbers of reprints of these cabinets, what is the history on the reprints. I gave it a no because of the description.

Lee

bowlingshoeguy

Sultan of the Cycle Back





Posts

: 3106


Trader Points

:





I agree. Do not bid into that description, eventhough it looks good.
The image appears to be a photo.
But he has 3 Keefes + he doesn't know if they are real + he sells this product, yet he doesnt get them encapsulated!
Too much unbelievable. Any unbelievable is too much for me, but this guy has it by the shovelfull.

TheRiddler

Custom





Posts

: 1404


Trader Points

:





There's way to many reprints floating around Ebay right now for me to take a chance on that one.
Some of these fakes anymore look incredibly authentic. Not a good thing..........
As I said in the other thread...I had snipes set...but cancelled them after reading...and re-reading the listings. Way too many red flags...I was even more intrigued by the other cabinet he was selling with a more obscure player...from a more obscure photo studio.

HE had a lot of real, old non baseball stuff for sale...so I guess there's a chance these were mixed in with that stuff. Hopefully time will reveal the truth...as painful as it may be!

ullmandds

East Coast




Posts

: 2093


Trader Points

:





Similar topics
---
Permissions in this forum:
You
cannot
reply to topics in this forum