Who can give us the 411 on baseball bats? I don't know much beyond that they're cut from candy boxes and there are several types.
Here's one from my collection:
To get this started, this is from Old Cardboard:
1911 Baseball Bats
FRONT
BACK Year(s) Published: 1911
ACC Designation: --
Set Name: Baseball Bats
Card Size (inches): 1-3/4 x 2-5/8
Number of Cards in Set: 50
Est. Value (common; VG): $165
--------------------------------------------------------------------------------
--------------------------------------------------------------------------------
Set Summary
Cut from the panel of a box of "Baseball Bats" candy
Cards mostly sepia, but with several variations
Variations include orange bordered cards with color background
Sometimes confused with cards from the "Orange Border" set
Unnumbered and blank-backed set is relatively scarce
And from FKWard's site:
1911
(E-Unc.)
Base-Ball Bats
Candy Cards
VERY RARE - These cards were printed on the back pannel of "Base-Ball Bats" penny candy boxes. They are found with a tan or orange colored borders, and a tan or red color background. Many cards are also found trimmed to the picture area. They are very similar to the 1910 "Orange Border" candy cards but with slightly different design and caption style differences. To date there are 50 different cards known.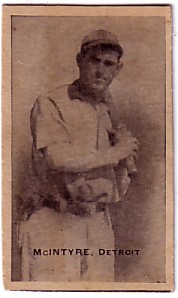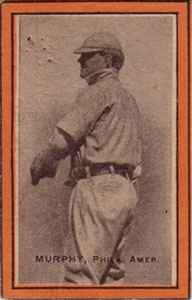 ItsOnlyGil

Retired





Posts

: 1145


Trader Points

:





Very scarce cards, but not too popular. I used to own these 6 a few years ago. The Doyle example shows a lot more of the box than any other I've seen.
Dan M. has a bunch of them, possibly even a complete set.
Ben, that doesn't look *anything* like Jack Barry - I wonder who it is?
They're really neat cards, I used to own three from the set, I think you remember that auction Ben :-)

I had a Collins, Bender and the Murphy shown above by Gil, two belong to a board member and another went to a set collector.

mzm55

All Star





Posts

: 112


Trader Points

:





So can we assume that there are three variations of baseball bats?

1. B&W
2. Orange Borders, B&W image
3. Orange Borders, red background, color image

And if so, does this suggest that there were several different package styles? Or could a b&w have appeared on the same package as an orange bordered one or a red background one?

From my observations, the b&w's are the most common and the red background ones are the toughest but that's just speculation on my part. Zach I remember that lot pretty well, you did really well with that one. The Bender was a beauty if I recall correctly.
These come in 3 possible variations: 1 - Orange frame with all gray interior, 2 - Gray frame with all gray interior, 3 - the red interior. I believe you guys have pictured all 3 already? If not, I can show what is missing. I also owned 2 partial boxes meaning the advertising side. Naturally the other side had a card removed. I still have 1 partial box and I will try to scan that for the forum. thanks Dan.

r337man

MVP





Posts

: 433


Trader Points

:





Dan,

I, for one, would be very interested to see the partial box if you can find a scan.

Thanks,

AndyH
Similar topics
---
Permissions in this forum:
You
cannot
reply to topics in this forum