VERY RARE - These cards were printed on the back pannel of "Base-Ball Bats" penny candy boxes. They are found with a tan or orange colored borders, and a tan or red color background. Many cards are also found trimmed to the picture area. They are very similar to the 1910 "Orange Border" candy cards but with slightly different design and caption style differences. To date there are 50 different cards known. -fkw
There are three designs of 1911 Baseball Bats. One displays the player on a sepia colored card and two surround that image with an orange border. The two orange border designs differ in that one maintains the sepia card image and background, and the other combines a red background with the image, as shown below. These cards are encountered with the orange borders trimmed off, since the cutting preference was up to the original owner of the candy box. This can be determined by measurement of the card. Their full potential size is 1-3/4 x 2-5/8".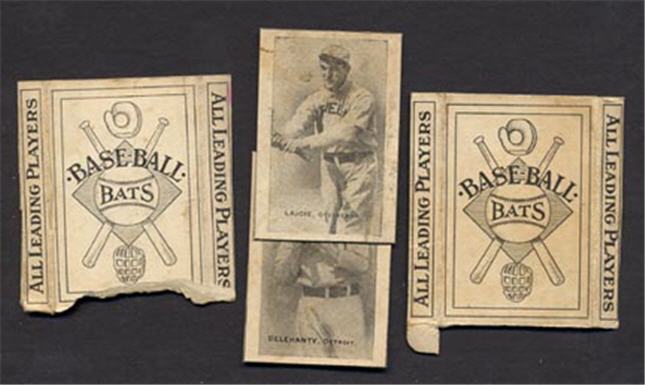 VCP lists the following cards in this set.
Ames
Baker
Barry
Beaumont
Bender
Bridwell
Brown
Carrigan
Chance
Chase
Cicotte
Clarke
Cobb
Cole
Collins
Crawford
Criger
Davis
Delehanty
Devlin
Devore
Donovan
Doyle
Evers
Flynn
Gibson
Hofman
Johnson
Kling
Lajoie
Mathewson
McIntyre
Merkle
Murphy
Needham
Niles
Oldring
Schulte
Seymour
Sheckard
Speaker
Stanage (Batting, front view)
Stanage (Batting, side view)
Thomas
Tinker
Wagner (Heinie)
Wagner (Honus)
Walsh
Wilson (Art)
Wilson (Owen)
Last edited by ItsOnlyGil on Tue Oct 13, 2009 9:07 pm; edited 2 times in total

ItsOnlyGil

Retired





Posts

: 1145


Trader Points

:






ItsOnlyGil

Retired





Posts

: 1145


Trader Points

:






ValKehl

All Star





Posts

: 101


Trader Points

:





Similar topics
---
Permissions in this forum:
You
cannot
reply to topics in this forum