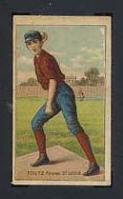 Dave Foutz
September 5, 1886 Dave Foutz is pitching for St. Louis with Pete Browning on first base. Charlie Comiskey' playing deep behind 1B as Louisville's Browning takes a long lead' Comiskey distracts the runner with small talk. Foutz suddenly runs from the pitcher's box and tags Browning out' the first instance of a pitcher picking off a runner unassisted.
This year Foutz will go 41-16 with a 2.11 ERA and hit 60 points lower than Browning, at .280.
Last edited by ItsOnlyGil on Mon May 26, 2008 3:29 am; edited 2 times in total (Reason for editing : Edited to add: the write up ststes that this was the "first instance" of a pitcher's unassisted pick off. Has there been another? Further edited to add: It was done again - October 1, 1890 by Matt Kilroy.)

ItsOnlyGil

Retired





Posts

: 1145


Trader Points

:





St. Paul Apostles, a latecomer to the Union Association in 1884, only got to participate in 9 games in that League as a team. This is the shortest lived team in MLB history, yet cards of several players are available.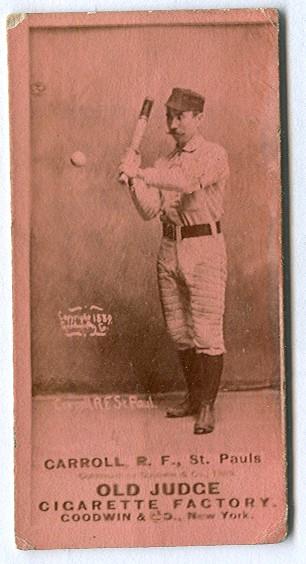 This is my first from that team, and the Apostles, who went 2-6-1, is the way I chose to represent the UA. Their philosophy was similar to the National Association, in that they were open to accept essentially any team.

ItsOnlyGil

Retired





Posts

: 1145


Trader Points

:





Nice cards Gil! Buchner Gold Coins are fun, and a neat tidbit about Foutz too.

Are St. Pauls N172's known to be especially difficult?
St Paul cards aren't particularily tough. Back in the 80s a about 20 each of players from Minneapolis and St Paul. Scrappy Carol, and that pose in particular, seem to very common.

Jay
I haven't been looking for these cards, so I do not really know if any are difficult. But some I see often, although they may not typically be listed with St. Paul. These are the ones I have listed as available as OJs:
C Charlie Ganzel
2B Moxie Hengle
3B Billy O'Brien
SS Joe Werrick
OF Bill Barnes
OF Scrappy Carroll
C Pat Dealy <----------- not too sure about this OJ
Last edited by ItsOnlyGil on Sun May 25, 2008 9:15 pm; edited 1 time in total (Reason for editing : accuracy)

ItsOnlyGil

Retired





Posts

: 1145


Trader Points

:





Card is a bit of a mess. But this is how it came. And I couldn't wait any longer for an example.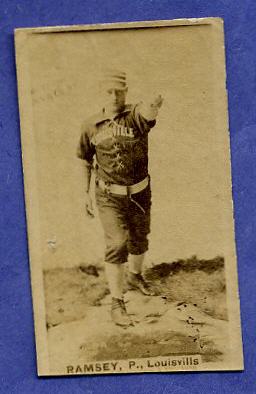 This player, Toad Ramsey, had the audacity to strike out 499 batters one season, and not win the strikeout crown. Nobody is likely to do that again, but who would want to?
Plus:
He struck out 17 players in a game, when it was required to get four strikes for a K.
Another mark not likely to be duplicated. I don't know why I like this trivia, but I do.

ItsOnlyGil

Retired





Posts

: 1145


Trader Points

:





Yes, I know why I like this trivia. It gives me a reason to want a card from among many similar no-name players, without relying on a third party's approval (such as the Hall). Or popular opinion (such as those players worthy but not included in the Hall).
It requires quite a bit of research, which I enjoy. And it creates "heroes" out of "chumps", which often results in low priced heroes for me. And it results in an assembly of cards which have a level of interest above routine commons.
Of course, big name stars are a part of this assembly too. That is how they became "big name" - by compiling a history of trivial accomplishments. But the big name players don't come cheaply. Even the chumps don't come cheaply.
So I must make cost comprimizes. This too often results in the big names being selected in terrible condition, for me. The chumps, I generally take as they come. If good or not - it really doesn't matter. I figure that the cards which I buy are not going to make much appreciation, and they are not going to be sold anyway. And they don't have much downside either.
There is a seemingly endless list of cards which I need for this assembly. Toad Ramsey was at the top of my list. He is now replaced by Hick Carpenter, whose claim to fame is that he was the top hitter on the first AA team to win the Pennant in their league; and he holds the record for most games played by a left handed fielding third baseman (1059). Or as Jay might say "I wanna see records kept for one-eyed, left handed, albino, midget Eskimos from Zimbawe".
Trivializing trivia.
This is not my entry for the "Who is the biggest loon in this bin" contest.

ItsOnlyGil

Retired





Posts

: 1145


Trader Points

:





Similar topics
---
Permissions in this forum:
You
cannot
reply to topics in this forum