Of seeing a T206 Wagner in person that is.

Mine was at a nice card shop in Gatlinburg TN. The Wagner was around GD/VG and they had one of those fake Piedmont 150 1950's reprints beside of it. I remember speaking to the owner and he was telling me about most people trying to guess which was real would pick the reprint. This was in the early 80's.

scott elkins

Inactive




Posts

: 581


Trader Points

:





Well...it was prom night...opps wrong first time.
But it was at the touring Hall of Fame baseball exhibit last year that came to the Mill City Museum. I'm not sure of the grade but it was pretty cool to actually see in person, I'm not sure if I will ever see one again but I can check that off the list. After seeing it, it's amazing how yellow the background is and the quality of the portrait is (and most I have seen scans of), almost like they took extra care in printing it? Maybe the card was never commerically released?
Even though I think it's an overpriced card, I would really like to own one someday if I had too much money.
sdbh
You must have seen a Piedmont Backed Wagner Sean, as it is the opinion of many in the Hobby those were never issued. Then, opinions differ from there. I believe, since Piedmont was printed first and is the most common back, that the Piedmont Wagners were printed at a later date to fill holes in collections - Gellman might have even had something to do with this, since many of his friends were missing the Wagner. Others believe the Piedmont Wagners were "Proof Cards" never issued in packs.
With the Sweet Caporal Wagners, they are almost always in worn condition. These have also been confirmed to have been issued in packs, as, when found, they were with other cards that could be dated back to someone collecting them from the packs. And there were a couple of instances early on where the person who pulled the Wagner from a pack remembered it came from a pack - maybe someone has one or two of these early Hobby stories to share (unfortunately, I threw mine out or gave them away in 2001).
Again, the one I saw (a Sweet Caporal 150 Fact. 25) was beside a Piedmont 150 1950's reprint. The dealer went on to explain to me about the 1950's reprints being printed with Piedmont backs b/c the card was only issued with a Sweet Caporal back (he was giving me some pointers, in case I ever came upon one for sale - which he didn't know my bad luck, or he would have known he was wasting his time!
).
I would say some members here, who attended that particular National, might have some stories about the display of multiple Wagners by Mastro at a National rather recently?????
PS - I had a thread on the Aimoo board where I showed close-ups of the PSA 8 Piedmont Wagner's back and the back of a Piedmont 150 card I had. I might have to do this again for those who missed that thread. However, one could clearly see the small blue lines in the Piedmont advertising were "bunched up" on the PSA 8 Wagner and clearly seperated on the Piedmont 150 from my collection. I am NOT a printing genius, but know enough to know when something is copied, the small close print tends to bunch up on the copy (I know this first hand from copying thousands of insurance applications over the years). Kevin even commented the scan of the Piedmont PSA 8 Wagner didn't look good as well - maybe he can comment in this thread?
When I get time, I will go to Aimoo and copy the scans from that thread and post them here, along with the comments. If someone else can do it sooner, feel free to copy and paste in this thread!

scott elkins

Inactive




Posts

: 581


Trader Points

:





find the scans on Aimoo...you may have better luck.

Mark

Square_Frame_Ramly

FC NCAA Bracket Champ





Posts

: 2773


Trader Points

:





The first Wagner I saw was at a small show in the Philly area. The card had a square part of the upper right corner cut away, 3/4" inch square. Since then, I've seen 5 or 6 others in private collections.

Jay

_________________
Jay

I like to sit outside, drink beer and yell at people. When I do this at home I get arrested, so I go to baseball games and fit right in.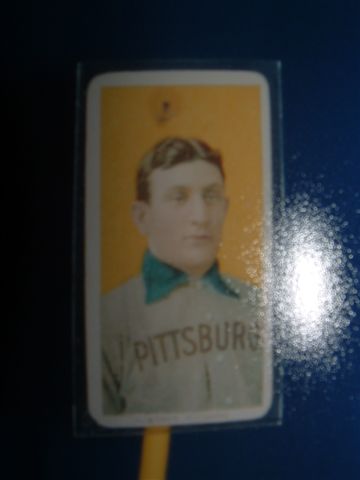 The first was at the HOF travelling exhibit when it was in LA a few years back. (Picture above. Later found out I wasn't supposed to take pictures - oops!) I thought something looked wrong with the 'W' on that card, like someone wrote part of it on the card.
At the Chicago National a few years ago, one of the auction houses had one out of the case for some reason. Before they put it back, I asked to "borrow" it for a picture, so somewhere I have a picture of me holding one. That's as close as I'll ever get to owning one...

glenv

FC NCAA Bracket Champ





Posts

: 178


Trader Points

:





it was 4-5 years ago i guess...a psa1 from a board member. we met up at a cafe, i showed him some of my mark grace rookie cards and he showed me his wagner/plank/psa8s johnsons mattys/d304 psa5 cobb etc

cccc

Hall of Famer





Posts

: 2550


Trader Points

:





---
Permissions in this forum:
You
cannot
reply to topics in this forum