When I picked up a 1888 Foutz Scrapps the other day I noticed that SGC had slabbed it as Scrapps Tobacco. I had read somewhere years ago that these were not Tobacco cards and in fact there was never even a Scrapps Tobacco brand name period.
I did some googling and came across this explination from a 2005 Lot description in an REA auction

Seems Rob Lifson misunderstood an Old time collector and the Scrapps tobacco Name was born, erroneously.

Here's the Description, I just thought it to be of Interest.

Click here
to view the photos Complete set of 1888 St. Louis "Scrapps." Beautifully assembled complete nine-card set of this very colorful, popular, and unusual die-cut issue which for years has been known as "Scrapps Tobacco." This set features nine players from the American Association's legendary St. Louis Brownie Champs. All have glue stains and scrapbook paper residue on their reverses, which is almost always the case with this issue, otherwise an extremely clean and attractive group in overall Vg-Ex condition. Highlighted by Hall of Famer Charles Comiskey, this is one of the few full-color baseball issues from before 1900 and of the most unusual and striking of all early baseball card sets. Extremely rare to find in a complete set. An 1888 Detroit Wolverines companion set of nine cards was also issued. The St. Louis Browns and the Detroit Wolverines were the two Championship teams of 1888.

This seems an appropriate time to clear up a long-standing, obscure hobby mystery relating to the identification of this issue as "Scrapps Tobacco." This identification first appeared in The Sports Collectors Bible (1975). The fact is, there is no tobacco brand by the name of "Scrapps." The responsibility for this erroneous attribution, we must admit, falls squarely on the shoulders of Robert Edward Auctions' President Robert Lifson. "Back in 1974, when I was working on The Sports Collectors Bible, editor Bert Sugar called me up and wanted me to clarify the name of this issue. I wasn't sure what this set should be called, so I called up Dr. Lawrence Kurzrok and asked him. Kurzrok was one of the great old-time collectors who was a contemporary of Jefferson Burdick. In a very quick fact-checking conversation, he told me they were 'Scrapps,' and assuming this was a tobacco issue, I misinterpreted him and thought that he meant 'Scrapps Tobacco.' What he really meant was that these cards were a series designed to be glued in scrapbooks. In the 1880s, assembling scrapbooks with various card issues of the day was a very popular pastime. Many sets featuring many different subjects were made specifically for this purpose. Satisfied I had the correct answer, I reported back that this set should officially be catalogued 'Scrapps Tobacco,' and that is how they have been referred to by most collectors ever since. Over the years some collectors have noticed that they never seemed to run across any other reference anywhere to the elusive 'Scrapps Tobacco' brand, suggesting that somewhere, somehow, an error was made. Well, there was. While I must admit I've been a little amused at how this error has taken on a life of its own over the years, I'm glad I have an appropriate forum to shed light on how it came to be. I don't think I renamed any other sets, but maybe I should check before going on the record on that!"


--------------------------------------------------------------------------------
Last edited by TheBig6 on Fri Aug 15, 2008 12:57 am; edited 2 times in total
Can we conclude that the product associated with this card is unknown?

They could be an arcade prize, magazine card punch out, even a Cracker Jack insert?

ItsOnlyGil

Retired





Posts

: 1145


Trader Points

:





Victorian style scraps were pretty popular in the late 19th century. They didn't come with any product; they were meant for scrapbookers and their function was purely decorative. Go onto ebay and type in 'victorian scraps' and you'll see hundreds of different examples. So, Lifson was indeed correct in pointing out his original error in labeling them a tobacco issue. They were nothing of the sort.
Here's a little more info from this
Scrapbooking Website.
Victorian "scrap", also known as lithography, is colored printed papers and usually embossed die cuts that were used in Victorian times by both children and adults for various past times and collections. Scraps first appeared at the beginning of the 19th century in the form of engravings in black and white and tinted by hand. Color printing came into play in 1937 and chromolithography and scrap manufacturers appeared mostly in Germany and Great Britain. These pre-cut scraps were relief stamped and embossed to give them a three-dimensional look and feel. They are sold in sheets connected with small strips to join them together.

Collections of scraps were pasted into special scrap albums and Victorians mixed calling cards, greeting cards and any pictures they liked and wanted to keep that were special to them. A lot of people group their collections by themes or special occasions with verses and poems. The Victorians were very romantic and loved sentimentality and keepsakes.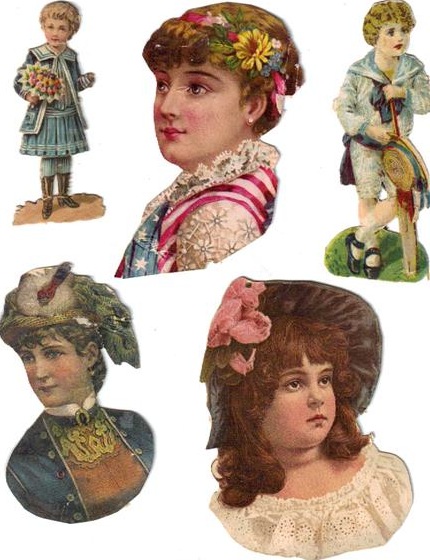 One man's opinion is that Scrapps appear to be different from Scraps. In spelling, format and purpose.

ItsOnlyGil

Retired





Posts

: 1145


Trader Points

:





I would agree that the baseball scraps (scrapps) are designs meant to be pasted in victorian albums. Too many similarities to the scrapbook designs of the era, and no indication that I know of that they were distributed though a tobacco product.
Similar topics
---
Permissions in this forum:
You
cannot
reply to topics in this forum