Just wondering if anyone here has seen one of these before or have an idea what set it's from?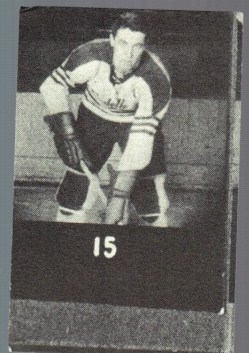 http://cgi.ebay.com/ws/eBayISAPI.dll?ViewItem&_trksid=p4340.l2557&hash=item2ec04a87ac&item=200794605484&nma=true&pt=US_Hockey_Trading_Cards&rt=nc&si=aIl%252Bh6HOPrrSVggfWJ6AK7FKGlA%253D&orig_cvip=true&rt=nc

Z-NUT

MVP





Posts

: 476


Trader Points

:





Nope, never. Did you win the auction Adam? I'd be interested in details re: dimensions and card stock. Odd looking piece, almost looks like it was part of a larger display because of the design elements on the lower half and right edge. Whatever it is, it's gotta be pretty scarce.
Ben, I wasn't the winner. I was suspicious that it might've been cut from a display or something so I decided to just watch it instead. Very similar in appearence to the 1952 St. Lawrence Sales set with the exception of the black bar across the front.

Z-NUT

MVP





Posts

: 476


Trader Points

:





Mystery solved, courtesy of the folks on the Net54 Vintage Hockey Collector's Forum:

"this is not from any card set, it's an unused image that is part of a flip book produced in Quebec city in the the early 50's.

"

Z-NUT

MVP





Posts

: 476


Trader Points

:





Similar topics
---
Permissions in this forum:
You
cannot
reply to topics in this forum