I've recently been introduced to the world of coin collecting - specifically, ancient coins (Roman empire). I teach World History to high schoolers (9th and 10 grade) so it sort of intersects with my profession as well. I was amazed to see that some of these thousand+ year old coins are fairly affordable (relative to cards at least - and yes, I know there are many fakes).
I haven't purchased anything yet besides a few introductory books on Amazon. Anyone here collect coins? Have anything rare/interesting to share, any advice, or maybe tell us about some of your experiences in this field?
Just for fun, here's a coin I found on an internet search, featuring Roman Emperor Galeruis I (reigned 305 - 311 AD). Pretty cool huh?
Lee and I have a cousin who has collected ancient coins since about 1980. I don't think Lee has ever seen anything in collection, but I have. It's been 25 years since I last saw him so I can only imagine what he has now.

On a side note, I saw a news article today where a couple of treasure hunters in Europe found a cash of over 50k ancient coins. Now that would be cool to find.
Thats a cool coin Ben,
Some old roman coins go pretty cheap, I don't know why, maybe theres alot of them around.
A couple guys in englend just in the last few days dug up an Iron age hoard of coins worth 16 million dollars,
I don't collect coins persay but I do collect the older ones I dig up with my metal detector.
Heres some I dug up from old homesites, Ghost towns and the like
Cool stuff guys, would love to hear more about that recent find. Will google it.
Forgot to mention what inspired the interest in coins - when my grandfather passed 8 years ago, he left behind a few bags of old coins, and in it I found 4 gold British sovereigns dating from 1894 - 1918. From what I've researched on the net, they are worth some decent money because they're in nice shape. Of course I'll never sell them as they're family heirlooms.
They are real beauties, they look just like this one:
Ancient coins are incredibly fascinating and beautiful, but from a collector's standpoint, I find them very sketchy. There are no grades or pop reports, so it is sort of like baseball cards were 20 years ago. The auction houses say something is rare and you have no idea whether that means there are 12 in existence or 60.

Also, hoards are found, often all of the same exact coin, and if you happen to own a coin in which a hoard is found then you are SOL. Therefore, while I find ancient coins incredibly fascinating, I am sticking to baseball cards (I also don't have the money to start an extensive coin collection).

There are some very beautiful gold coins for the Greek, Roman and Byzantine Empires are the Met in NYC. I really enjoyed seeing those.



jbonie

Custom





Posts

: 1709


Trader Points

:





Here's the article
link
about the 15 million dollar find, must have just happened in the past few days, wow!
Found this article interesting.... I had no idea coins could not be taken from Italy after 1909. "exquisite forgeries..."
http://www.huffingtonpost.com/2012/07/04/dr-arnold-peter-weiss-pleads-guilty-ancient-greek-coins_n_1648700.html?utm_hp_ref=crime

pariah1107

Legend





Posts

: 799


Trader Points

:





I've been reading up alot on Roman coins, they are fascinating. If you thought t206 or n172 had a lot of variations....
I will slowly work my way into collecting them, once I find my niche and learn up as much as I can (I have a bit of a head start after 3 years of teaching ancient history). Collecting one coin of each Roman Emperor could be a fun and exciting challenge (there were 147 emperors total). I imagine some coins would be extremely difficult if not impossible to locate as some emperors were in power for just a matter of months before being assassinated and replaced.
They are also surprisingly affordable - especially the bronze/low grade ones (I might go for silver). For example this billon coin (bronze/copper alloy) can be purchased for $22 and it's 100% the real deal, nearly 2000 years old. Just like with cards, it's all about supply and demand, and I assume a coin like this one was heavily minted.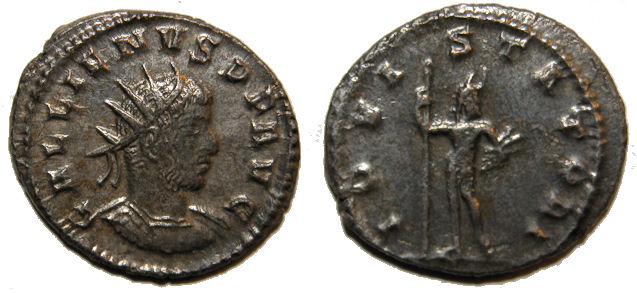 From watching these pawn/picking shows...I've started to develop an interest in old guns...and somewhat in coins as well...but I know very little about either!
When I was in Turkey there were lots of street peddlers trying to sell phony coins to tourists...so buyer beware!
I saw this super rare coin in san jose, costa rica...of which only a handful were known to exist. Photo is taken through magnifier as coin is teenie tiny!!!![img]
[/img]

ullmandds

East Coast




Posts

: 2093


Trader Points

:





Similar topics
---
Permissions in this forum:
You
cannot
reply to topics in this forum