Hey guys,

I know the American Beauty back cards in the T206 set were cut slimmer to fit the packages, but are T205's with AB backs also slimmer than other T205's? This question sounds stupid to me, but I can't recall ever hearing it discussed in regards to the T205's before.

Thanks,

AndyH
t205 ABs are normal size. There are two different AB backs. One in green ink and the other in black ink.

Jay
Jay,
Thanks for the help man. Now my question is, do you think this card is trimmed? I always thought it looked a little short side to side, but with the AB back I thought maybe it was the same deal as with the T206's.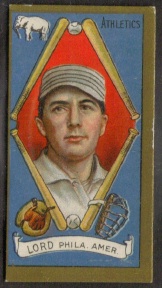 I bought it from a respectable dealer years ago, so I assume it's good. Just lately I have been wanting some other's opinions. Whadya think?
Thanks,
Andy
Bats ears on the left edge indicates it is trimmed. That would be my guess

Jay
Hate to disagree with anything that Jay has to say about cards but as someone who has put together a complete T205 set with a handful of American Beauty cards sprinkled in I can confirm that T205 are generally a touch shorter side to side just like their T206 brothers.
It only makes sense since T205 was produced right on the heels of the popular T206 cards and these would have been put into the same packaging that required the T206 cards to be cut a bit short.
W/R/T the image of the particular card that was posted, I do agree with Jay that it looks like something is going on with the left edge and that looks like a bat ear in the lower left so I would be a bit suspecious of that particular card.
Jay is also correct that there are two different American Beauty colors (black and green).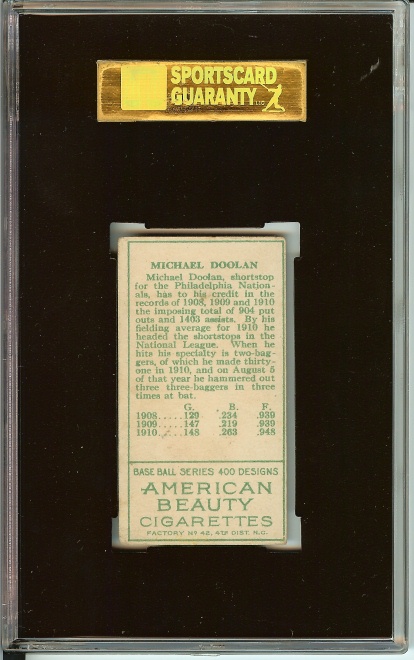 phlflyer1

Major Leaguer





Posts

: 80


Trader Points

:





While I no longer collect T206 back variations, I once had several. I have to agree with Scott on this one - T205 AB's are a tad shorter than the other brands.

Bat ears is one of the first things graders look for to determine trimmed cards however.

scott elkins

Inactive




Posts

: 581


Trader Points

:





Narrowing wouldn't surprise me. In the 80s, I didn't have many t205 ABs and never really stood out as being significantyl narrower like t206s ABs. I still say the card he is asking about is trimmed. Bat ears are never a good sign on a card.

I'm doing some back research on t205s right now since I plan on putting together a basic player set of t205s together in conjuction with my player set. No need for me to chase the Hoblitzell no stats and other rare variations since I only need one card of each player.

Dump day has proved to be a boon. If someone had the money and desire, you can put together a complete set of t205s except the Hobby no stats and Joss.

Jay
Hey guys,
Sorry to post and then disappear for so long. Sometimes I can't get back online for a little while. Anyways, thanks for the responses. I'm glad to hear that the AB backs are normal when slightly slimmer than others. I'll have to pull the card out and take a close look at the edges again to see I can make out the bat ears you mentioned. I never noticed it before though.
This was the first T205 that I ever bought, so I'm planning to keep it and I won't be too upset if it were actually trimmed.
I never realized the AB backs come in 2 colors. I love learning new stuff about old cards.
Thanks again,
AndyH
---
Permissions in this forum:
You
cannot
reply to topics in this forum