+4
r337man
hrbaker
sabrjay
ullmandds
8 posters
I am 41 and 1/2...and have been in love with baseball and baseball cards since I was about 6 or 7. I remember my first cards...about 100 1970 topps cards...I think they were given to me from a friend of the family. I remember going to a BB card trading session at the Bergenfield library 1 town over...and some girl had a babe ruth from the 1976 topps set...all time greats or something. I offered her all of my cards for it...but she said no!
Over the next few years my dad would ask his friends, whose kids had gone off to college, if they had any BB cards they didn't want...and I was able to aquire most key cards from the late 50's to present in this manner. I remember an aaron rookie for $25 and a Seaver Rookie for $7 as being too expensive to consider owning!!!
I was approached at a card show...presumably in NY/NJ area where I grew up...by some dealer offering me a t206 matty white cap...pretty beat up...but in my price range...and I bought it...$2...and I still have it. A few years ago I bought a lot of T cards from a Lipset auction which included a sweet matty white cap...which I got graded and got an sgc 70...it was gorgeous! I ultimately sold it...and chose to keep my 1st vintage card!
[img]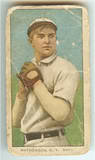 [/img]

ullmandds

East Coast




Posts

: 2093


Trader Points

:





The first cards I remember buying as a kid were 1969 Topps football cards. Even though I grew up in MN, I remember being excited about getting a Gale Sayers card. It was all down hill from there. I bought cards from every sport and lots of non-sports sets until about 1976 when I got "too old" to collect cards.
Found the Beckett guide in 1980 and got sucked into wanting really old cards. Went to my first show with Lee in 1980 at the old Thunderbird Motel in Bloomington put on by Mansco Perry. I left that show with every Pete Rose card from 1963-9 and a chunk of the 1955 set after buying a bunch of commons from Bill Henderson. Hit the show again in 1981. Next show after that was Spring 1982 Willow Grove show. Walked out of that show with a complete t201 set, a bunch 1933 Goudey's including Dizzy Dean, n162 Caruthers and assorted other T & E cards. Still one of the most amazing shows I ever attended.
I bought a few packs of 1966 Topps at the local IGA during the summer of that year. Next year I went full bore spending all of my paper route, pop bottle redemption and allowance money on 1967 Topps. That was really the summer that cemented my lifelong love of baseball and cards. The Cardinals were great and headed for a Series championship and I was playing my second year of Little League on the White Sox (still have my wool cap, had to turn the uniforms (full flannels) back in). My favorite thing to do with any money in my pocket was hop on my new "Spider" bike and head to IGA. If I was able to scratch together at least .25 then I could get a 6 pack wax tray for a quarter.
First vintage card was a 1939 Playball Charlie Gehringer bought from Kevin Savage in 1988 through SCD. My first pre-WWI was a T206 Sam Crawford from an SCD ad as well.
A few of my empty 1967 Topps wax boxes.

hrbaker

MVP





Posts

: 332


Trader Points

:





My earliest memories are from 1969 - 1972 buying tobacco cards from the Holiday Inn show in Pikesville MD and Edmondson Flea Market. My very 1st one I bought was Downey hands above head for .10 and soon after came my Green Cobb portrait that I still have in my set for $2.00. It has been down hill from there!

r337man

MVP





Posts

: 433


Trader Points

:





those old topps boxes are awesome...man, Dan...wish I could remember those days...by the time I got into a little vintage in the early eighties commons in vg were like $4-5...and like $10 when I was in College in the late eighties-early nineties!

ullmandds

East Coast




Posts

: 2093


Trader Points

:





I remember that Edmondson Flea market-I once bought a Frank Robinson rookie there in some plastic case and when I got it home and opened it, it had 2 Frank rookies in it.

My first 206 was from Jays in Towson a bat on Cobb for 100. My first real tough back was a brown Lenox from some guy named Dan that lived in Reisterstown turned out to be one of the best friends I ever had.

Jim Rivera cfc1909

MVP





Posts

: 376


Trader Points

:





I am 34. When I was growing up my grandfather was a "trash scavenger." He was a laborer and would go to the local dumps where he knew everyone.

One day, I was probably 10 or so, he brought to my parent's house a few hundred cards. It was a case filled with late 70's cards. Nothing to valuable but it got me started. Took some time off after high school until 2.5 years ago and came back collecting vintage.



Wiggum Fan

Major Leaguer





Posts

: 71


Trader Points

:





Hi, I've been a lurker on this board for a while, and I figured I'd introduce myself in this topic.

My earliest collecting memory was the flood of delight while ripping packs in the late 80s. I'd keep stars from 1987 Topps in my pocket or wallet for good luck. Like many collectors, I quit in high school, only to come back during my late 20s after I was able to build some disposable income.

Ebay re-sparked my interest in pre-war cards. I won an auction for a Mordecai Brown T206 card. After I received the card, I remember wondering at how small and how old it was.

I've since sold the Brown, took time away from the hobby, and came back. Although my disposable income has shrunken considerably, I think I'm here to stay!

Penny cards at the old used book store. Rifling through boxes of cards for that hidden gem, found a 1960 Hoyt Wilhelm that would do good service on the beater page, but I EARNED that card going through countless numbers of Mork & Mindy, and KISS cards. To me it was priceless.
Like you Peter I lost interest for years only to have it reignited by a chance encounter with an Ivan Olsen w514. It was being used as a coaster at a local tavern by another patron. Asked him if he knew anything about it, and he introduced me to vintage card collecting. If I only knew what it would lead to I would have bought him a round. Amazing, I remember the card, but can't for the life of me remember the patrons name.
I learned two things that day.... I would never look at money the same way, and vintage card collectors really do HATE strip cards.

pariah1107

Legend





Posts

: 799


Trader Points

:





---
Permissions in this forum:
You
cannot
reply to topics in this forum