Has long been thought to be only a strip card issue. However evidence recently uncovered by Robert Lifson indicates that this set, containing sports and non-sports figures, was available in a package containing gum. That is, the w553 set is actually a gum card.
A summary of this change in status is summarized below. Links to the actual information which was released last year is viewable at the following.
http://www.sportscollectorsdaily.com/latest-sports-collecting-news/cache-of-1930s-unopened-wax-boxes-found.html
http://www.robertedwardauctions.com/auction/2009/1535.html
Cache of 1930s Unopened Boxes Found
Monday, 02 March 2009
They were put on the shelf as America discovered bubble gum....and stayed there...until this year.
It seems impossible. Maybe that's why every card collector with an imagination dreams about the ultimate find: boxes and boxes of decades-old untouched, unopened gum boxes sitting in some long-forgotten place.
The boxes were originally located in a storeroom of what is being described as a "candy and gum distributor" on the east coast, although Lifson wouldn't divulge exactly where or whether the business was still in operation. He did say the boxes had been stored on large shelves, but pushed further and further back over time, the packs inside remaining untouched for as long as 80 years. At the time, they had been saved as ordering samples. Some of the outer boxes, not surprisingly, show some wear, but Lifson described the contents overall as 'mint'.
The find will also clear up a misconception that the W553 set was strictly a 'strip card' issue. The unopened find includes cards inside wrapped Marble Gum Novelties packs. They are considered among the earliest sports card gum cards ever issued.
Collection of fourteen unopened nonsport packs related to the W553 baseball series, issued in packs entitled "Bubble Gum Novelties" by Marble Gum in 1929. The address of Marbel Gum is printed on each wrapper ("3411 N. 2nd St., Phila., PA"), which is translucent, allowing one to view the card inside upon close inspection. Each wax pack contains a stick of gum and one card picturing a famous movie star printed in duo-tone surrounded by an elaborate ornate design. For years this set has always been known only as W553 (issuer unknown) and while we have not seen the movie-star cards in this series before, over the years we have seen W553 baseball cards that are unmistakably from the same series.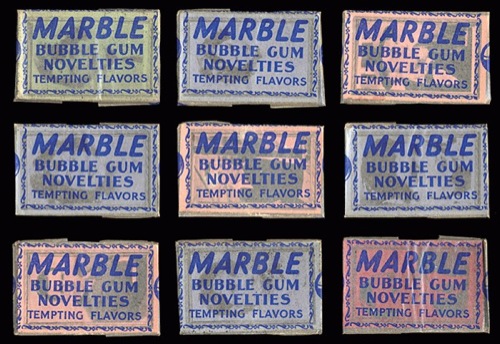 Do you think that this change in status will affect the cards price?

TheRiddler

Custom





Posts

: 1404


Trader Points

:





Not really. They are still relatively unattractive cards. No matter how rare something is, if it's ugly, it's not going to be in much demand.

I owned 6 strips of 4 cards each back in the late 80s. No one back then had a clue what they were.

Jay
I've heard that the w517 set was also available singly, in addition to strips. But no product has been confirmed with that set.

TheRiddler

Custom





Posts

: 1404


Trader Points

:





Similar topics
---
Permissions in this forum:
You
cannot
reply to topics in this forum