This one looks pretty close, what do you say - real or fake?
I'm no expert on goudeys, but I'm gonna still say "FAKE" on this one because the card stock doesn't seem right, especially the way the creases look. Also, the red "big league chewing gum" advertising block lines up perfectly with the green background, which I've been told is a telltale sign of a reprint.
auction link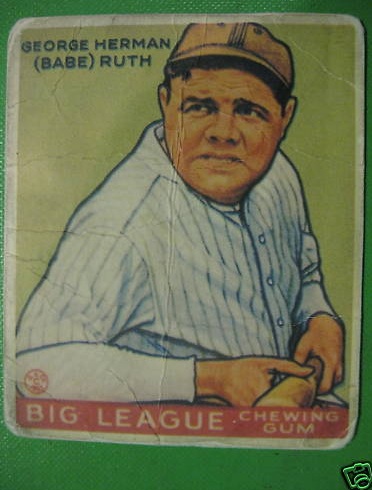 I'd say fake. With heavy wear on the corners, the creases should show some wear and dirty. They just look too clean. As heavy as some of those creases are, they should have broken the surface, yet that doesn't seem to have happened.

Jay
FAKE!
Ben, the red bar lining up is a good indicator but not perfect.

pro9

Retired Mod





Posts

: 367


Trader Points

:





Agreed that it is fake for a number of reasons.

Among them in order of importance: the red bar alignment (as noted by others), the lack of other color bleed beyond the borders at the top, and the lack of transfer (visibility) of the front bar and other features showing through onto the back of the card. The corner and crease "wear" is another indicator. The light color within the corner wear makes the card stock look too white. In the 30s, they weren't using the same bleaching agents in the papers that modern stock does. UV would prove that, but short of having the card in hand, the light coloring in the corner wear makes the stock appear suspicious as well.

Editted to add that it is interesting that they call the 1933 card his rookie ...not even close.

terjung

Legend





Posts

: 935


Trader Points

:





---
Permissions in this forum:
You
cannot
reply to topics in this forum