The Knickerbocker Club was formed by members of the Gotham Base Ball Club, which became the first organized club in NY in 1837. Although in existence in the early 1840's, it is generally recognized that the Knickerbocker Club officially formed on September 23, 1845. Wheaton, an attorney in New York City, was an original member of the Gotham Base Ball Club. He also served as Vice President of the Knickerbockers from September of 1845 through the following years elections in May of 1846 and was instrumental in helping formulate the first set of formal rules. He umpired two early Knickerbocker matches, the first recorded baseball match in the United States on October 6th and again on October 23rd 1845. Cartwright, an early member of the Knickerbockers, is often the subject of conjecture when historians discuss baseballs beginnings and its founding members of the first set of written rules. Some accounts identify him as formulating the rules and others have members of the Knickerbockers disputing his involvement. Cartwright was elected as Secretary in 1846 and served as Vice President in 1847 and 1848. He left New York for California in 1849 during the gold rush and eventually moved to Hawaii. Anthony, an early member of the Knickerbocker Club, played in the first Knickerbocker match against an opponent, the New York Club, on June 19, 1846. He was elected Treasurer in 1851 and 1852 and held the position of Vice President in 1856 and 1857. He and his brother, Edward, were the first in New York to manufacture and sell cameras and photographic supplies through their business E & H.T. Anthony & Company. Their company eventually became the largest distributors and suppliers of photographic equipment in the US during the 19th century. Curry, the first elected President of the Knickerbockers in 1845, served as President for the 1846 season as well. He has been credited with assisting in formalizing the original rules of base ball and has also been reported to vehemently dispute Cartwright's involvement in the same. Adams was perhaps the most important figure regarding the development of the early game of base ball. He joined the Knickerbockers in 1846 and was elected Secretary the same year. He played in the first Knickerbocker match against an opponent, the New York Club, on September 23, 1846 and was elected President in 1847. He held that position until 1849 and in 1851 became a Director until 1855. In 1856, he was elected President for a fourth time and retained that position in 1857 and was also elected the President of the first base ball convention, held in New York in 1857. During this meeting he was appointed the head of the Rules Committee which standardized numerous rules including the distance between bases, the distance between the Pitcher's line and Home Base and requiring all matches to be nine innings in length. He was one of two delegates representing the Knickerbocker Club at the first National Association of Base Ball Players convention held in New York in 1858. He was elected president for the sixth and final time of the Knickerbockers in 1861.
1858 Knickerbockers & Excelsiors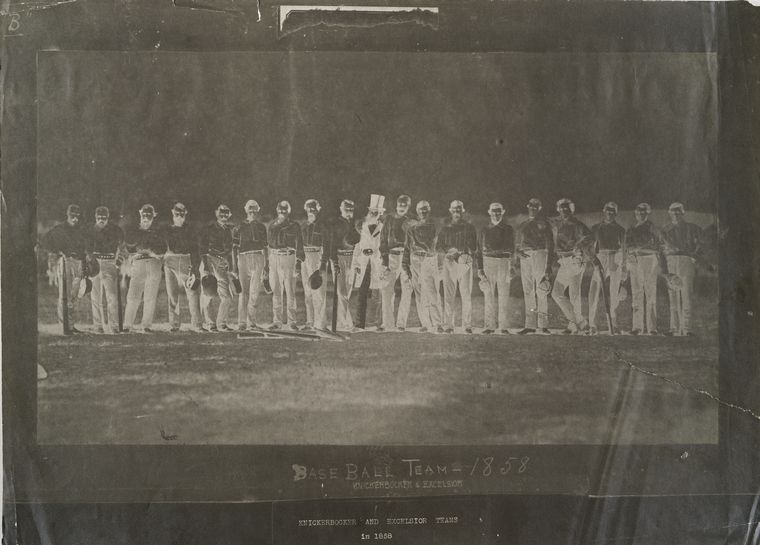 1860 Brooklyn Excelsiors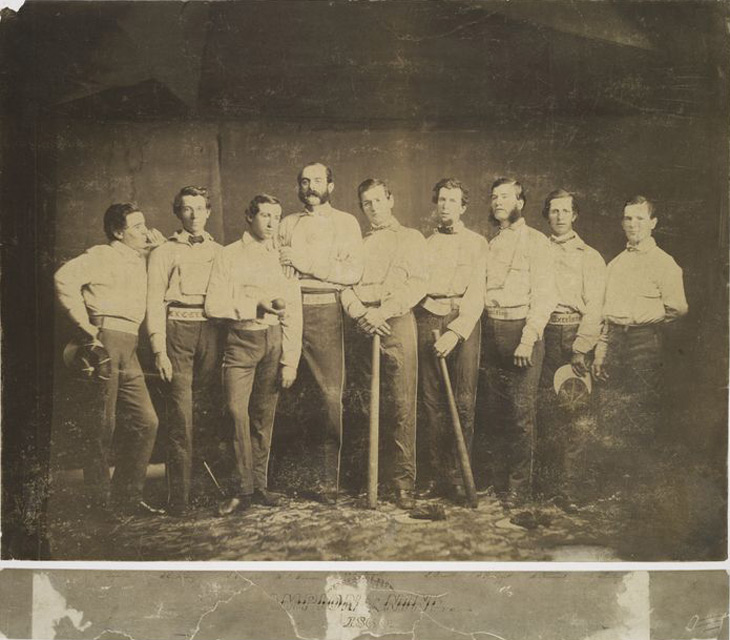 Excelsior Club of Brooklyn 1860 (left to right): Thomas Reynolds, SS; John Whiting, 3B; Jim Creighton (holding ball), P; Henry D. Polhemus, 2B; Aleck T. Pearsall, 1B; Edwin Russell, LF; Joe Leggett, C; Asa Brainard, LF; and George Flanly, CF.
1864 Brooklyn Resolutes
1865 Brooklyn Atlantics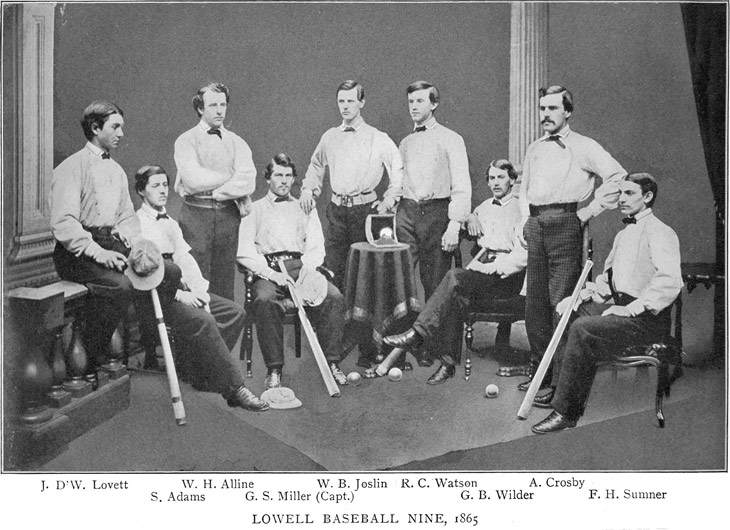 The 1865 Boston Lowells was originally formed in 1861 as a junior club. The Lowells were one of only three New England teams to hold the Silver Ball trophy, pictured in a case on the table.
1867 Unions of Morrisania
The players are (L to R) George Smith, LF; Dan Ketchum, 3B; Tommy Beals, RF, Ed Shelly, 3B; Dave Birdsall, C; Charley Pabor, P; Albro Aiken, SS; Henry Austin, CF; Al Martin, 2B and John Goldie, 1B.
1868 Cincinatti Red Stockings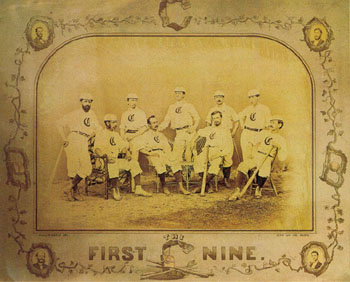 1868 Brooklyn Atlantics
1869 Cincinatti Red Stockings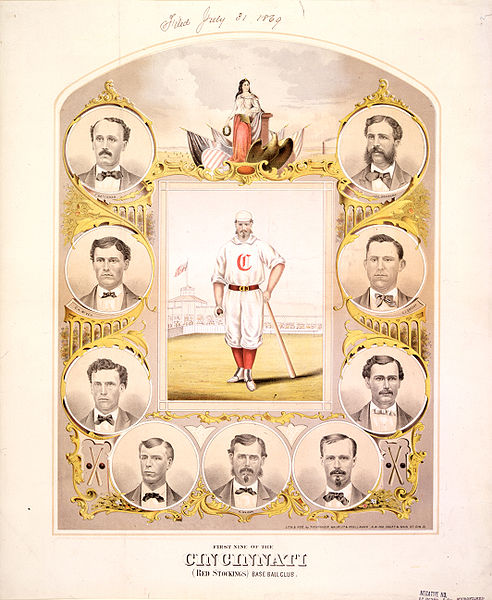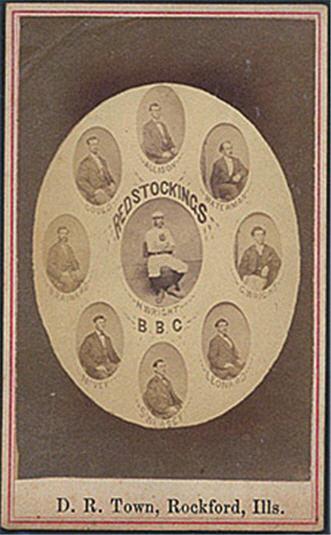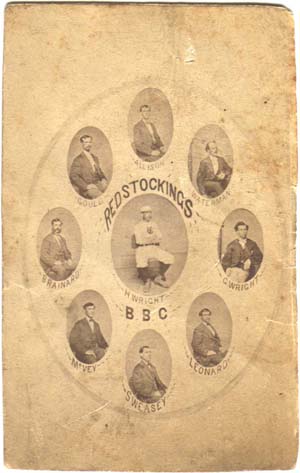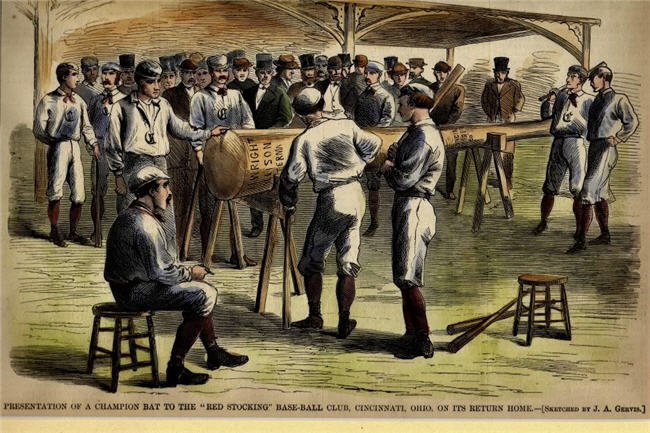 1869 Brooklyn Atlantics
1870 NY Mutuals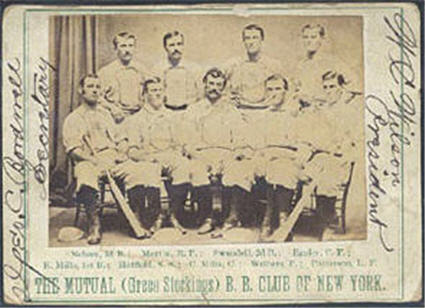 The Mutual Base Ball Club of New York, aka, the "Green Stockings," 1870. Standing (L to R) - Jack Nelson, Third Base; Al "Phoney" Martin, Right Field; Marty Swandell, Second Base; Dave Eggler, Centre Field. Seated (L to R) - Everett Mills, First Base; John Hatfield, Short Stop; Charlie Mills, Catcher; Rynie Wolters, Pitcher; Dan Patterson, Left Field
1870 Philadelphia Athletics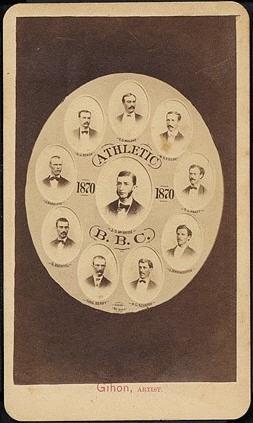 Last edited by TheRiddler on Sun Oct 25, 2009 12:21 am; edited 15 times in total

TheRiddler

Custom





Posts

: 1404


Trader Points

: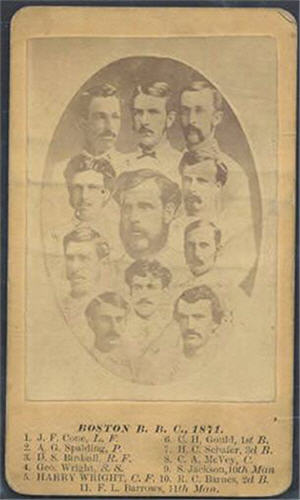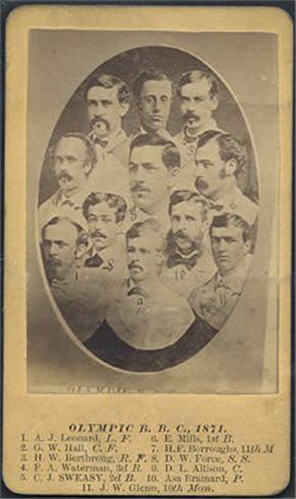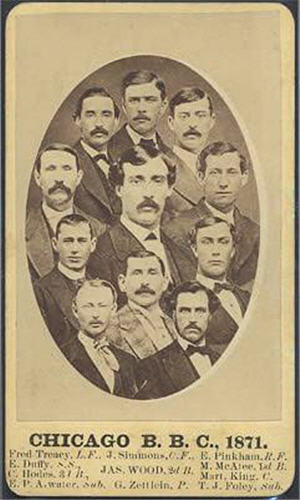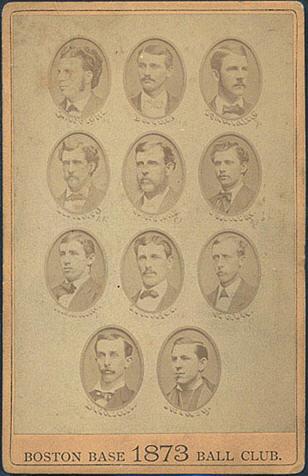 [url=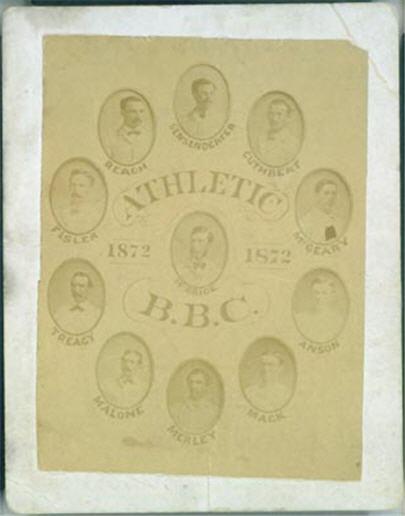 1871 Olympics of Washington
Olympics of Washington, D.C., A. J. Leonald, l. f., G. W. Hall, c. f., H. W. Berthrong, r. f. , F. A. Waterman, 3b.
1871 Forest Citys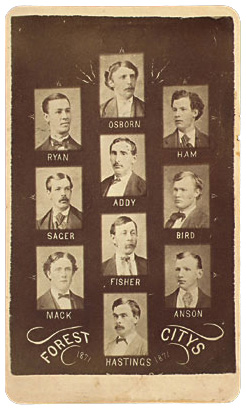 1873 Mutuals of NY
Mutuals of New York, M. Nelson, Martin, Swandell, Eggler, E. Mills, Hatfield, Walton, Peterson
1874 Philadelphia Athletics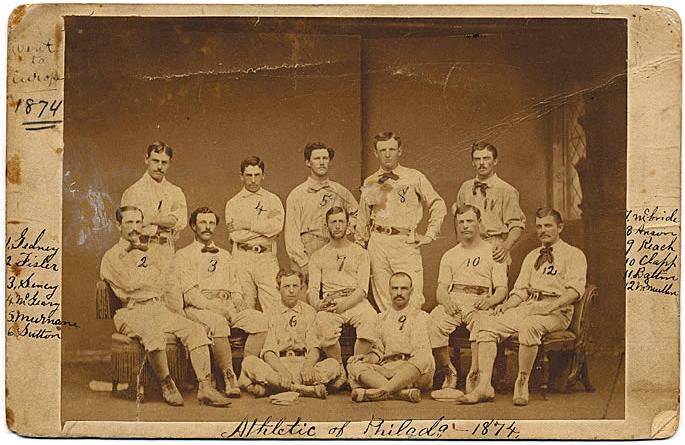 1874 Boston Red Stockings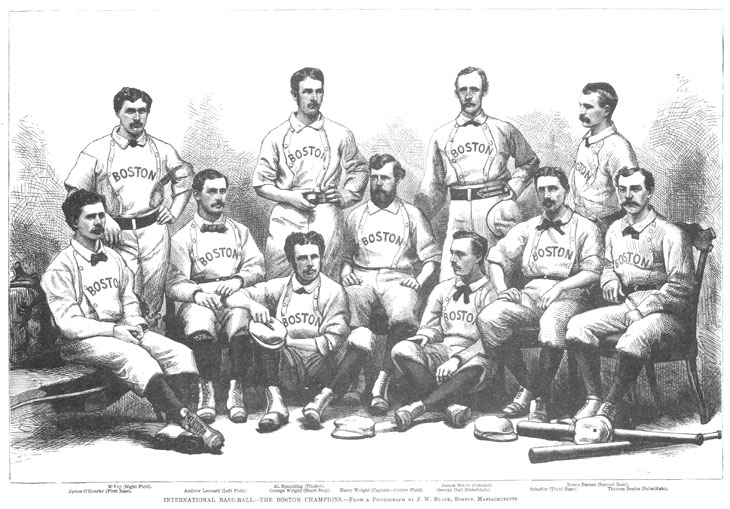 Eleven of the 12 members of the Boston Club that traveled on the 1874 Tour - Seated (L to R): James O'Rourke, First Base; Andrew Leonard, Left Field; George Wright, Short Stop; Harry Wright, Captain and Centre Field; George Hall Substitute; Harry Shafer, Third Base; Thomas Beals, Substitute. Standing (L to R): Cal McVey, Right Field; Al Spalding, Pitcher; James White, Catcher; Rosco Barnes, Second Base. Not pictured is Sam Wright, Jr.
Last edited by TheRiddler on Sat Oct 17, 2009 6:43 pm; edited 2 times in total

TheRiddler

Custom





Posts

: 1404


Trader Points

:





National League to 1884

1877 Boston Red Caps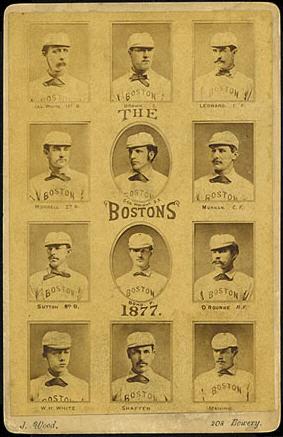 1877 Chicago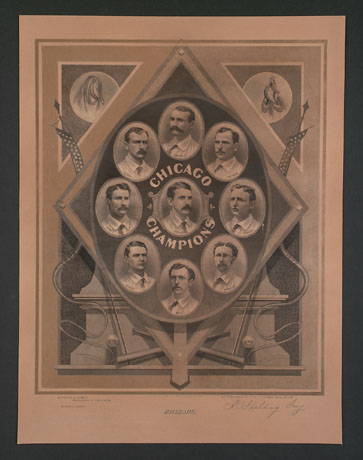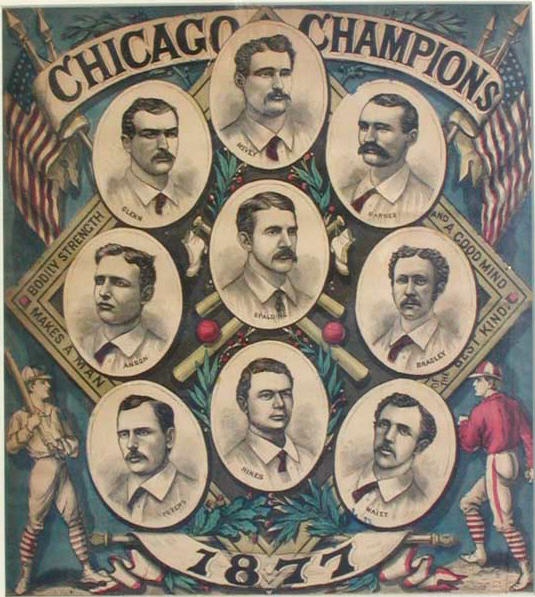 1878 Boston & Providence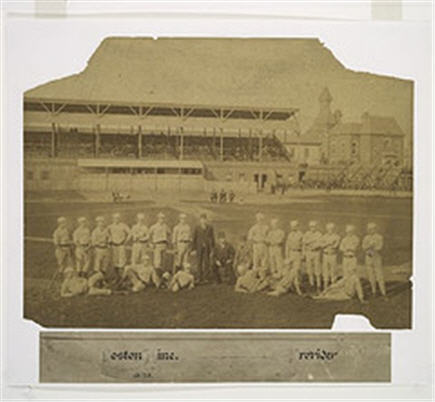 1879 Buffalo Bisons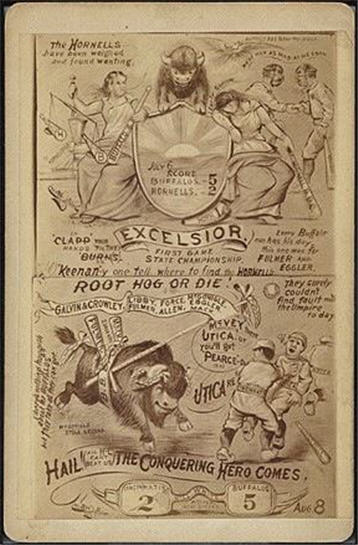 1879 Providence
1879 Boston red Caps
1880 Chicago White Stockings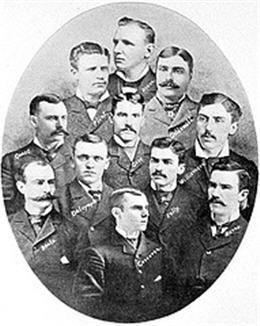 The rules of 1882 called for the use of multi-colored uniforms denoting each player's position. For example, scarlet-and-white-striped shirts and caps were worn by first basemen, while shortstops wore solid maroon. Only the color of the stockings was used to differentiate one club from another. Derisively called "clown costumes," the experimental outfits were dropped in mid-season, though a few clubs briefly revived the position-oriented design in 1888.
1882 Buffalo Bisons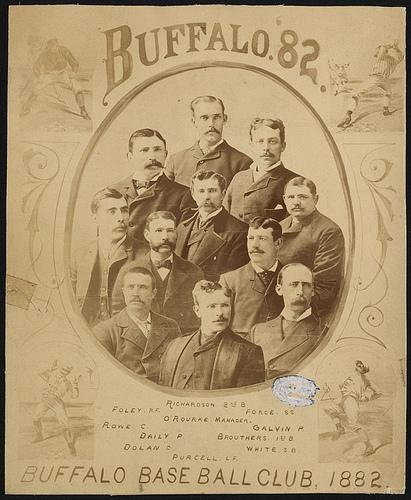 1882 Providence Grays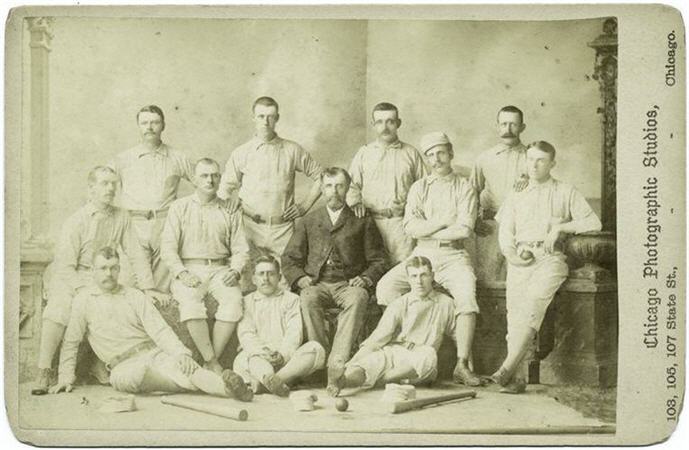 1882 Providence Grays; 52-32, .619, 2nd place, 3 games behind
Standing: L-R: Paul Hines (CF), Tom York (LF), Charlie 'Old Hoss' Radbourn (P), Charlie Reilly (C).
Middle Row: L-R: Jerry Denny (3B), George Wright (SS), Harry Wright (Mgr.), Joe Start (1B), John Ward (RF).
Seated on floor: L-R: Barney Gilligan (SS), Jack Farrell (2B), Sandy Nava (RF)
1882 White Stockings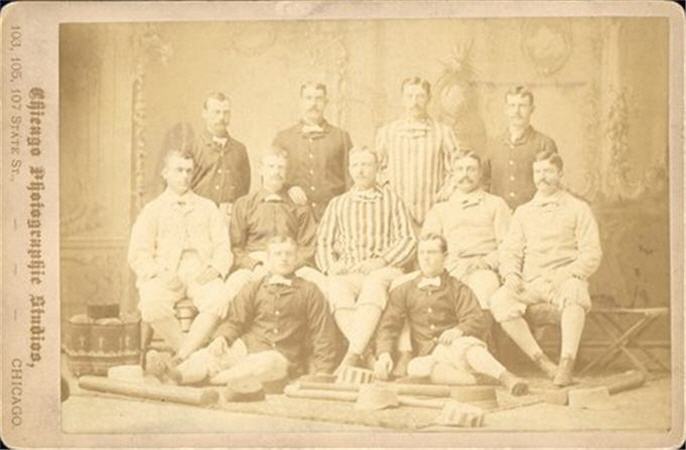 1882 Wolverines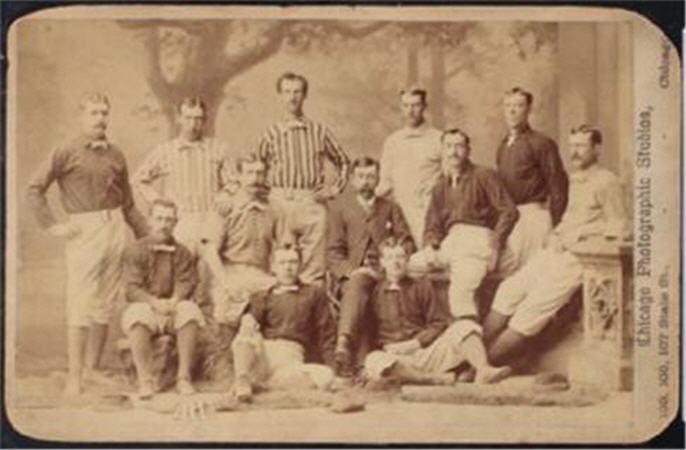 1883 Boston Beaneaters
Boston Baseball Association, 1883, Buffinton, Radford, Whitney, Sutton, Morrill, Wise, Burdock, Hornung
1884 Grays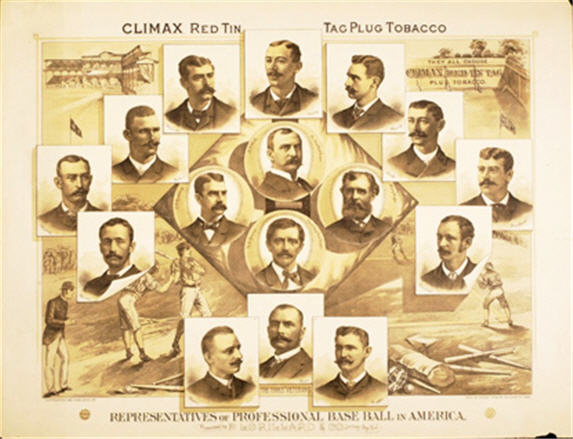 Last edited by ItsOnlyGil on Wed Nov 11, 2009 1:58 am; edited 11 times in total

ItsOnlyGil

Retired





Posts

: 1145


Trader Points

:





American Association1882 NY Metropolitans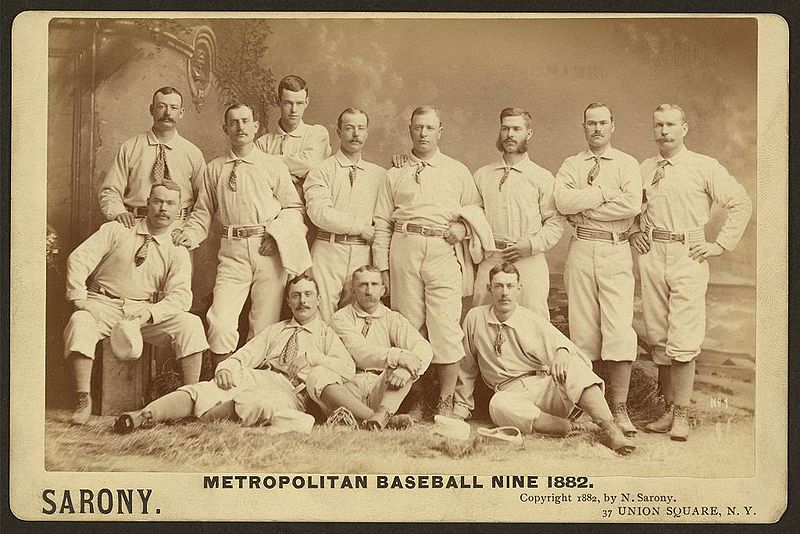 1883 St. Louis Browns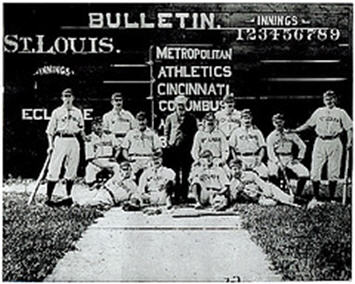 1884 Philadelphia Athletics
Philadelphia Baseball Club, 1884, Mulvey, Coleman, Farrar, Andrews, Manning with Harry Wright, Phila, 5-16-84
1884 Toledo Blue Stockings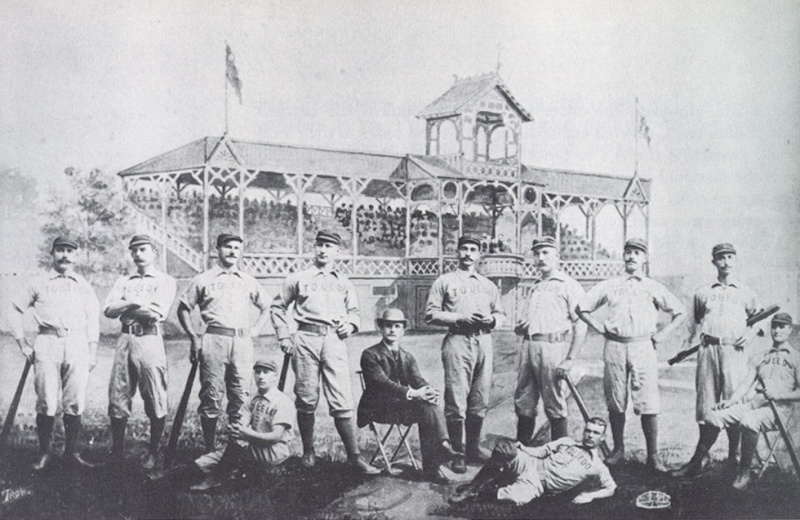 1886 St. Louis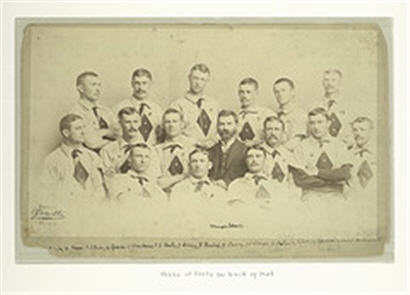 1886 Louisville Colnels



clockwise starting after mascot:
Jim Hart center? -?-Joe Werrick, Paul Cook-Monk Cline (under Hart)-Dave Foutz-Hub Collins-Phil Reccius-Bill Dighton White
1887 Philadelphia Athletics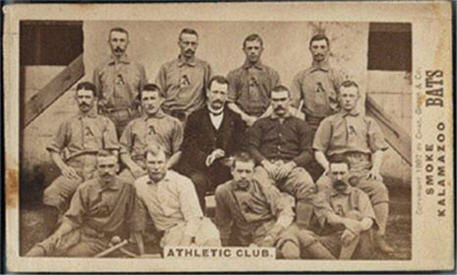 1888 Louisville Colonels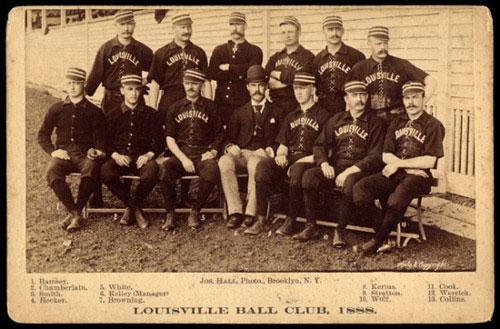 1888 Cleveland Blues
1889 Brooklyn Bridegrooms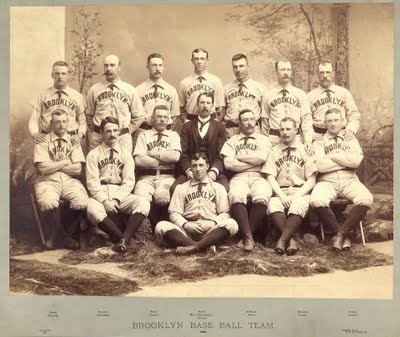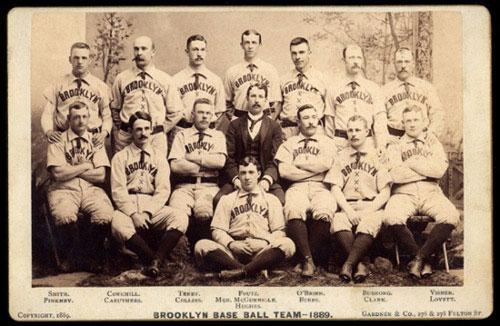 Last edited by ItsOnlyGil on Tue Oct 27, 2009 1:33 am; edited 15 times in total

ItsOnlyGil

Retired





Posts

: 1145


Trader Points

:





Thanks Gil, Always fun to see this stuff.
The Excellsiors seem to be a real negative team.


bowlingshoeguy

Sultan of the Cycle Back





Posts

: 3106


Trader Points

:





Union Association

Wilmington Quicksteps.........Altoona Mountain Citys...........Baltimore Monumentals

Boston Reds..........................Cincinatti Outlaw Reds............Chicago/Pittsburg StogiesKansas City Cowboys.............Milwaukee Brewers.................Philadelphia KeystonesSt. Louis Maroons..................Washington Nationals.............St. Paul Apostles (Saints/White Caps)St. Paul Saints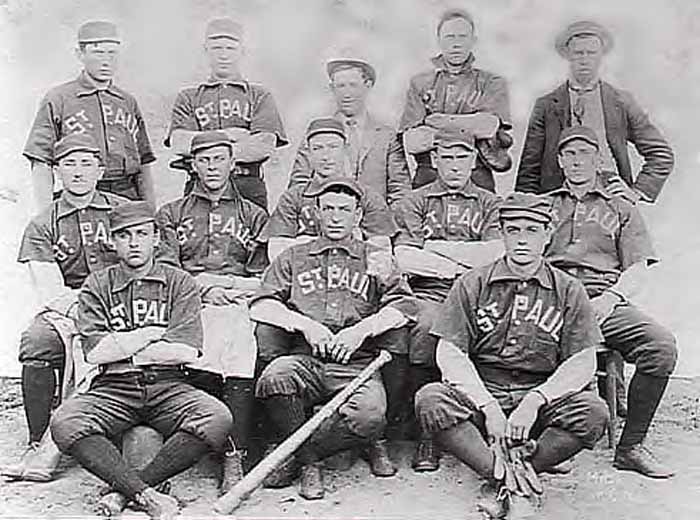 Team went 2-6-1 in their abbreviated season, the fewest team wins in a season. All nine games were played on the road. Although an obscure team, several of their players appear on n172 cards, including Joe Werrick, Moxie Hengle, Billy O'Brien, Scrappy Carroll, Charlie Ganzel and possibly Pat Dealey.
Last edited by ItsOnlyGil on Mon Oct 26, 2009 11:35 pm; edited 8 times in total

ItsOnlyGil

Retired





Posts

: 1145


Trader Points

:





National League 1885-1889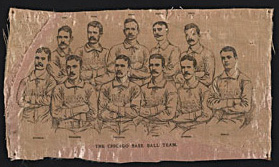 Team image of 1885 World Champions. Each player is pictured in uniform and identified next to his image. Includes: McCormick, Williamson, Burns, Clarkson, Sunday, Gore, Flint, Anson, Pfeffer and Kelly.
1886 Chicago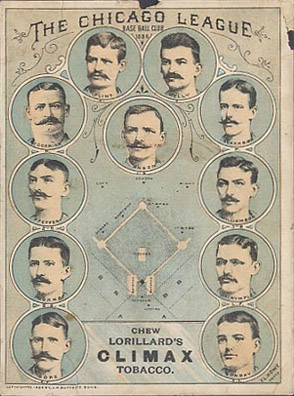 1886 Detroit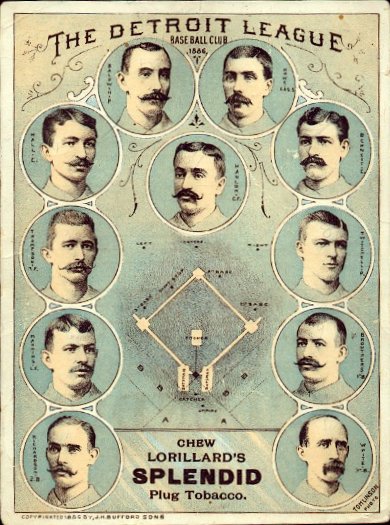 1886 NY Giants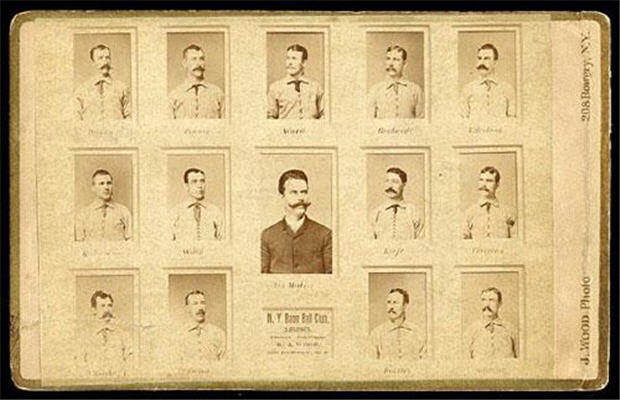 1887 Boston
1887 Detroit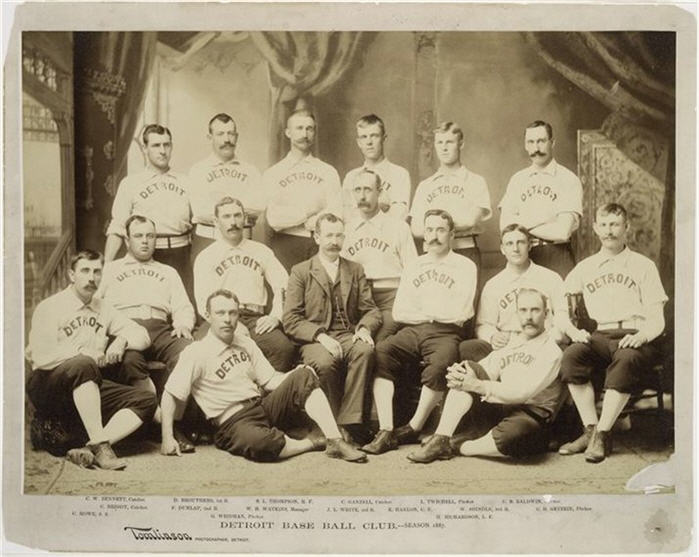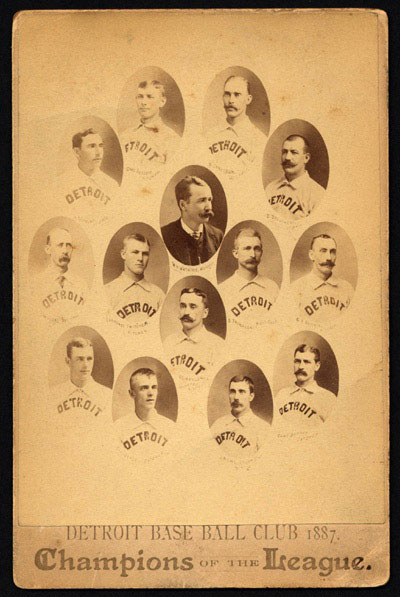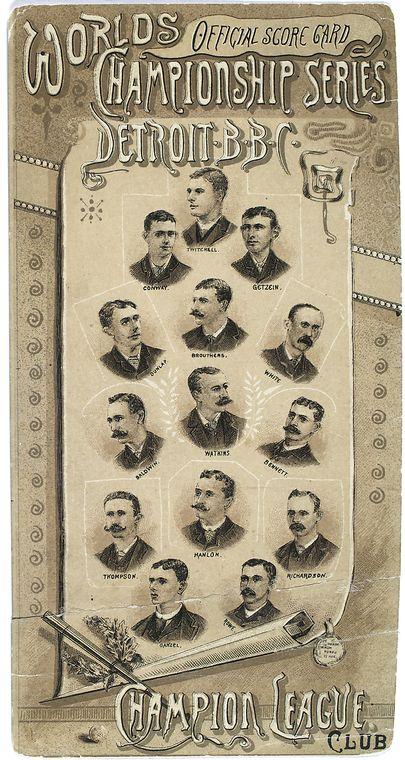 1887 Philadelphia Quakers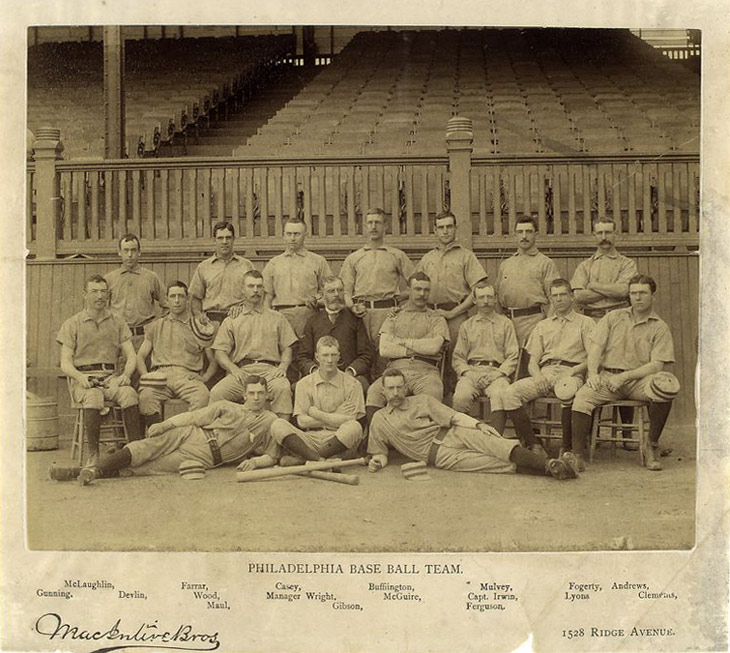 1887 Washington Nationals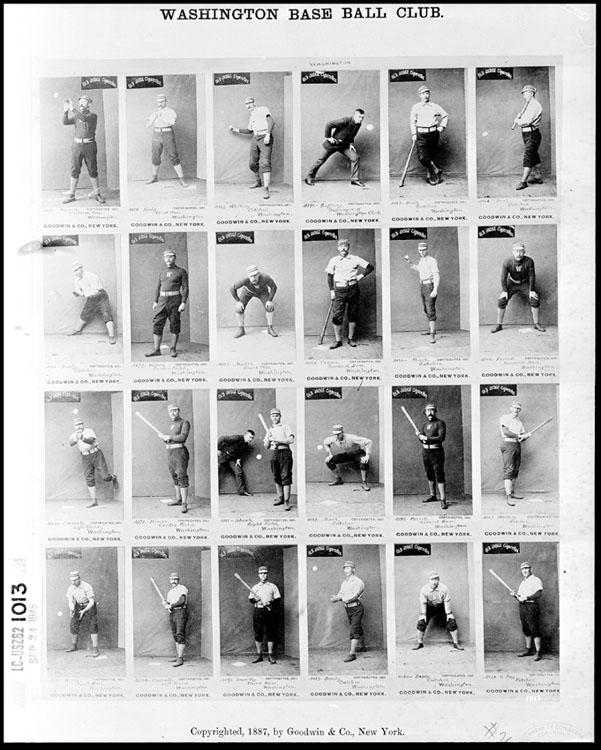 1888 National League
1888 Washington Nationals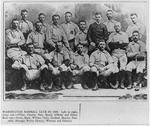 1888 Indianapolis Hoosiers
1888 St.Louis
1888 Chicago
1888 NY Giants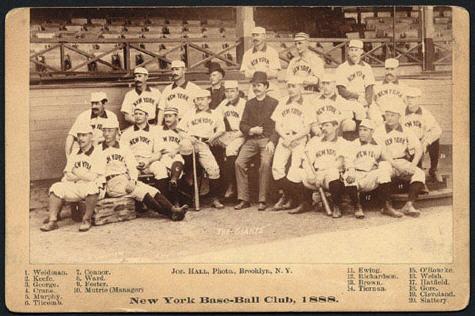 1889 NY Giants
1889 Boston Red Stockings
1889 Tour Card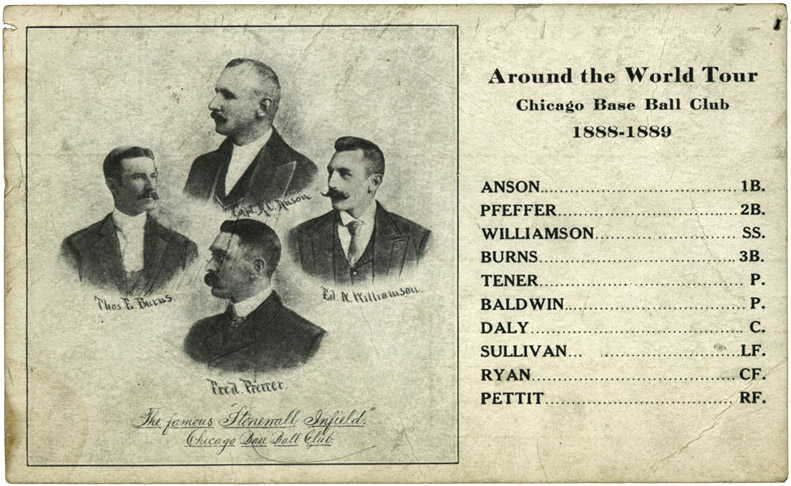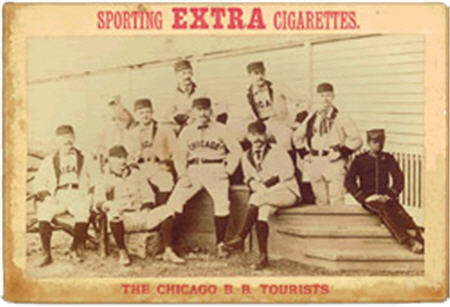 Last edited by ItsOnlyGil on Tue Oct 27, 2009 1:38 am; edited 6 times in total

ItsOnlyGil

Retired





Posts

: 1145


Trader Points

:





1890 BaseballBoston Nationals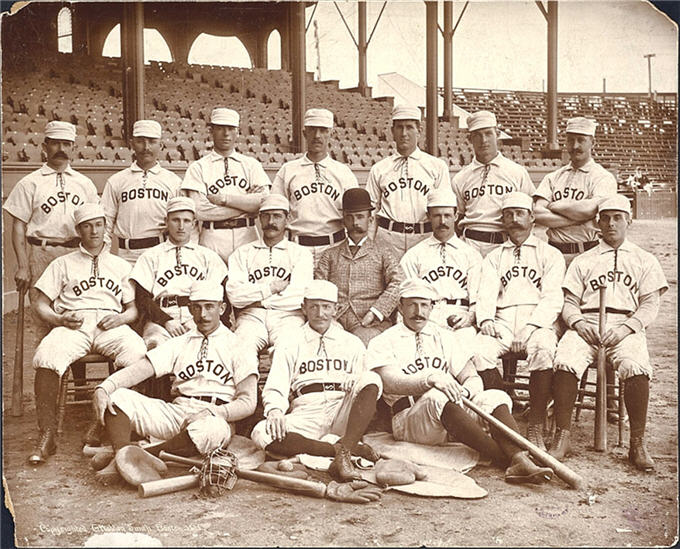 1890 Boston Nationals: 76-57, .571, 5th place

Top row: L-R: James "Chippy" McGarr (IF), Harry Staley (P), Patsy Donovan (CF), Charles Ganzel (utility), William Joyce (3B), William Daley (P), Tommy Tucker (1B).

Middle row: L-R: Kid Nichols (P), Herman Long (SS), Charles Bennett (C), Frank Selee (Mgr.), John Clarkson (P), Jim Whitney (P), Steve Brodie (RF).

Bottom Row: L-F: Bobby Lowe (SS/CF/3B), Paul Revere Radford (utility), Tom Brown (OF).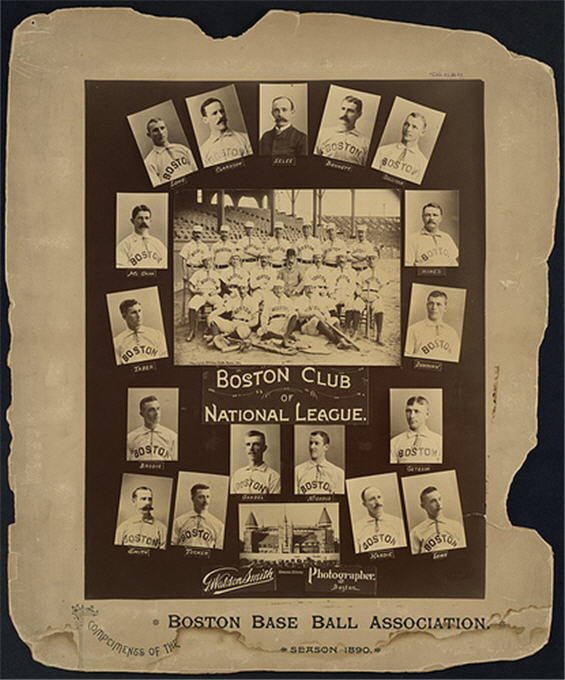 Brooklyn Ward's Wonders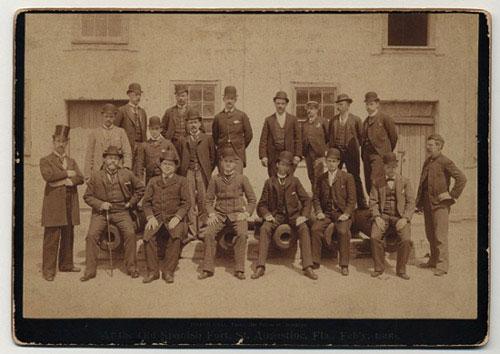 1890 Chicago Pirates

ItsOnlyGil

Retired





Posts

: 1145


Trader Points

:





1891-1899
1891 Boston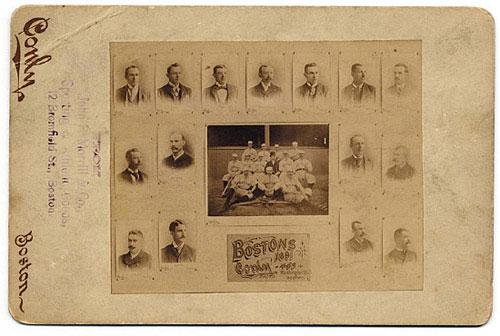 1894 Baltimore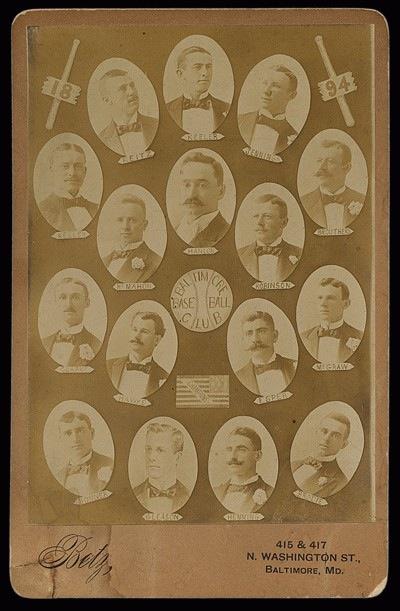 1894 Philadelphia
1895 Baltimore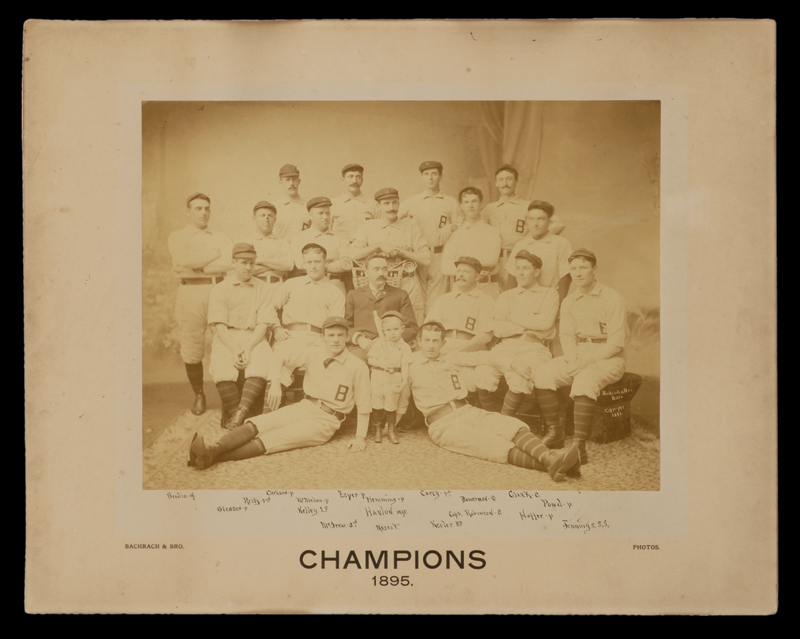 1895 Team Captains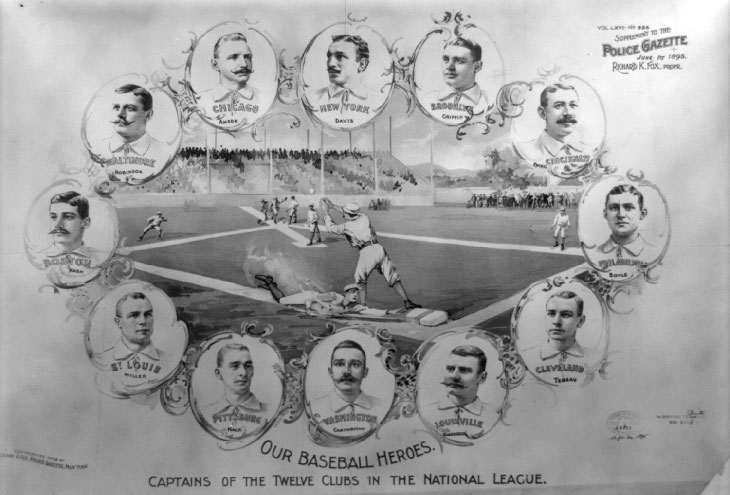 Represented are (clockwise from top center): New York; George Davis (first of three Managers, Third Base), Brooklyn; Mike Griffin (Centre Field), Cincinnati; Buck Ewing (Manager, First Base), Philadelphia; Jack Boyle (First Base), Cleveland Patsy Tebeau (Manager, First Base), Louisville Jack Glasscock (Substitute), Washington; Ed Cartwright (First Base), Pittsburg; Connie Mack (Manager, Substitute), St. Louis; Doggie Miller (Third Base), Boston; Billy Nash (Third Base), Baltimore; Wilbert Robinson (Catcher) and Chicago; Cap Anson (Manager, First Base). The center drawing depicts a runner's attempted steal. Note that the second baseman is not wearing a glove.
1895 Cleveland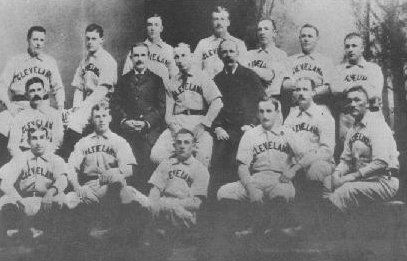 1896 Boston
1896 St. Louis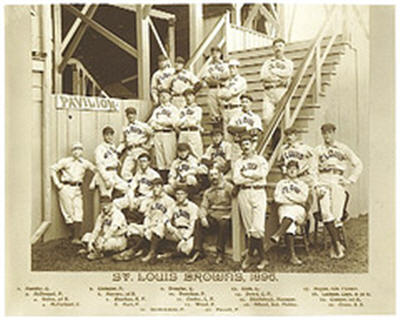 1897 Buffalo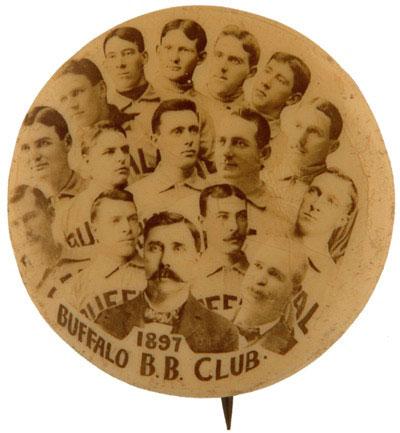 1898 Cleveland Spiders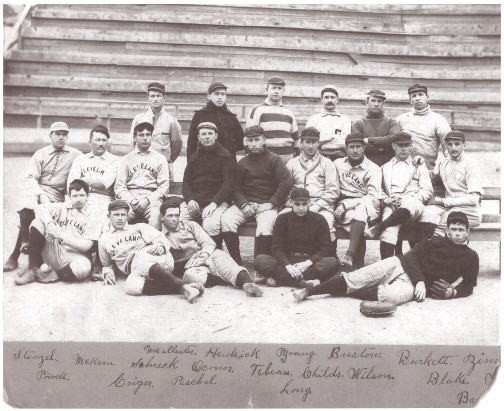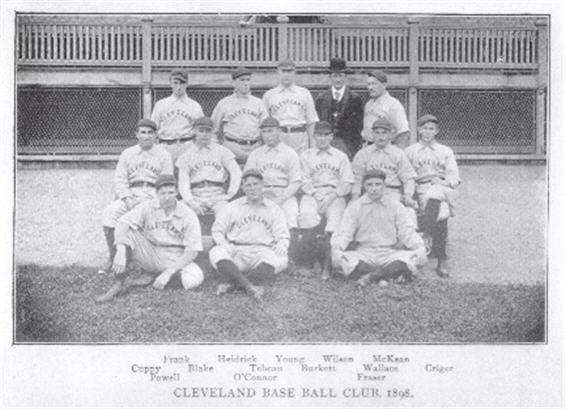 1899 Baltimore Orioles
1899 St. Louis Perfectos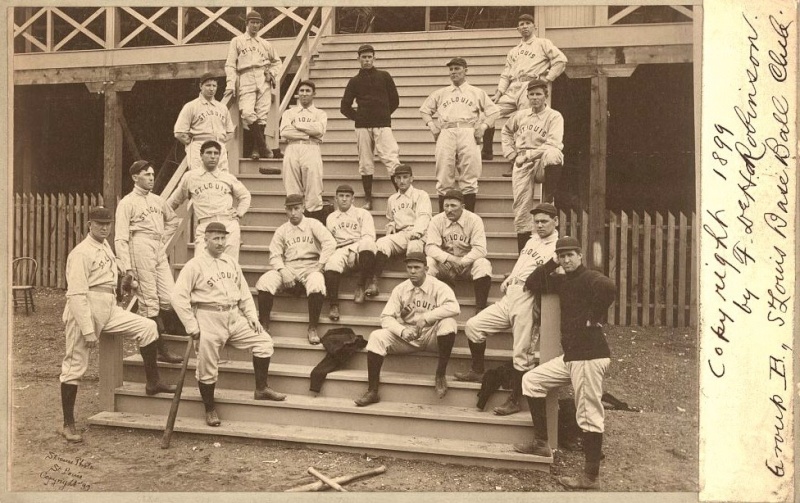 ItsOnlyGil

Retired





Posts

: 1145


Trader Points

:





Please use this section to contribute to our 19th century team image project. I too will be dumping pictures and text here to be reorganized, sized, trimmed, etc.
And thank you to all of the individuals who contributed to this assembly by just allowing me to copy your pictures and bring them here without even so much as giving you credit. Thank you.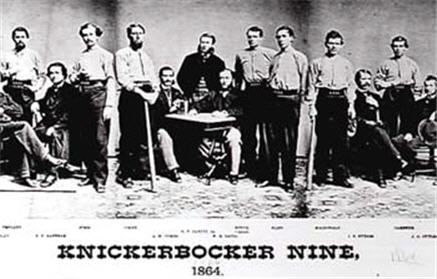 1887 Indianapolis Hoosiers
1887 Chicago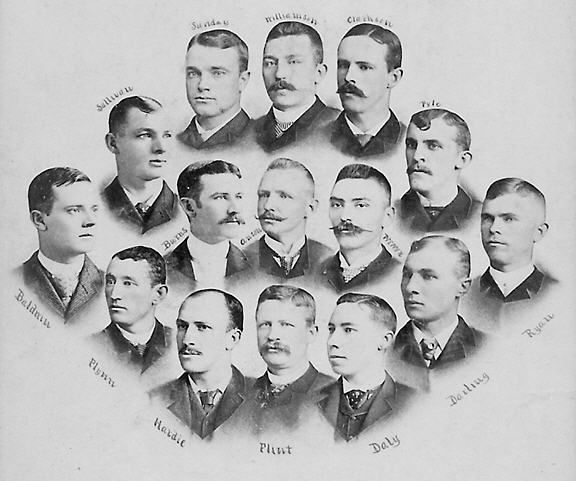 1892 Phillies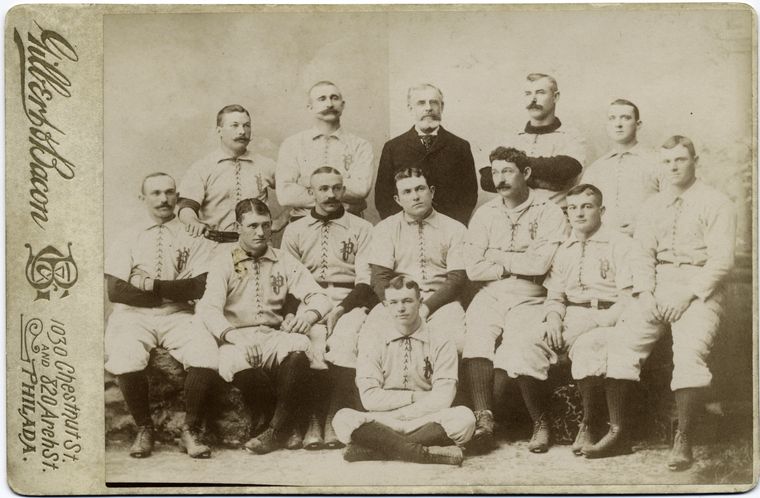 Last edited by TheRiddler on Sat Jun 05, 2010 7:21 pm; edited 10 times in total

TheRiddler

Custom





Posts

: 1404


Trader Points

: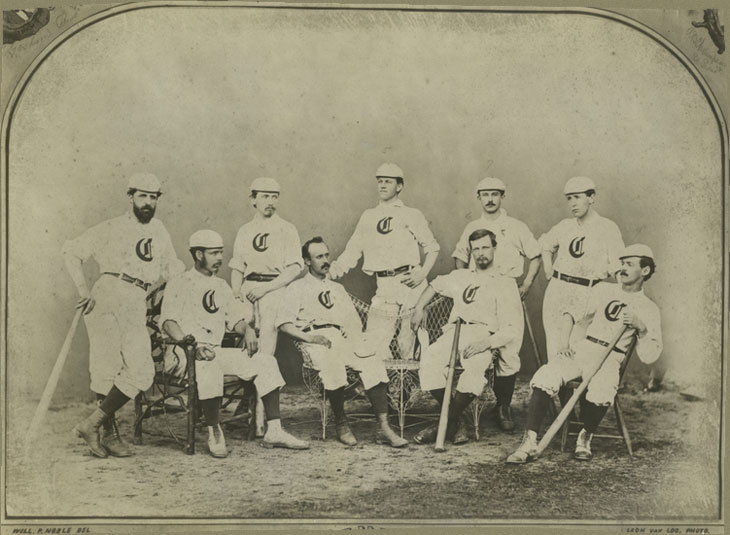 1868 studio photo of the 36 and 7 Cincinnati Club with a listing of the player's primary position. Standing (L to R): Asa Brainard, Second Base/Pitcher; J. Williams Johnson, Right Field, Johnny Hatfield, Left Field; Rufus King, Centre Field; John Con Howe, Short Stop. Seated (L to R): Harry Wright, Pitcher; Fred Waterman, Third Base; Charley Gould, First Base; Moses Grant, Substitute.

ItsOnlyGil

Retired





Posts

: 1145


Trader Points

:






---
Permissions in this forum:
You
cannot
reply to topics in this forum