+4
r337man
sabrjay
fisherboy7
ItsOnlyGil
8 posters
Page 2 of 2 •
1, 2
Last edited by on Fri Feb 15, 2008 12:17 am; edited 2 times in total

ItsOnlyGil

Retired





Posts

: 1145


Trader Points

:





Gil, that Shires card is just about the sharpest mini I've seen. From the # of minis I've observed, it seems to me that the sharp images show up far less frequently than the ones with less distinct images. Wild guess is maybe 10 to 1 at best? Likely even more of a disparity between the two types of images. I too have no clue as to why a company would produce them in such fashion. It certainly appears to be deliberate though.
One place that sharp image cards such as those shown, can be obtained is from Exhibit Supply Company's postcard back 4 on 1s., as the one shown below, for example.
Please note that the above 4 on 1 differs from the typical ESCO 4 on 1 because of the employment of a fancy script type font on the card. Shown below is a common 4 on 1.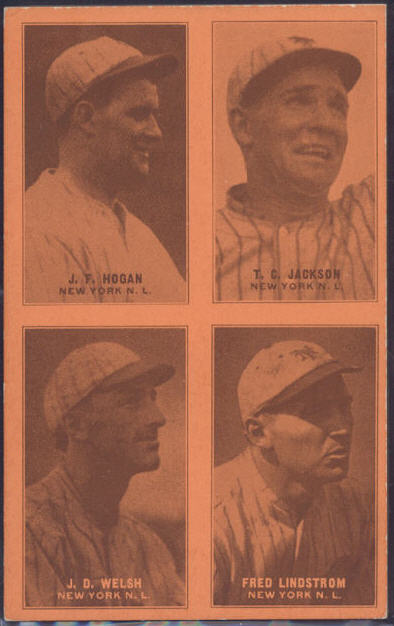 Also, since it is a postcard back card, not all four images yield the clean backs typical of w517s. Actually, as shown below, only one clean "card" can be obtained from this ESCO 4 on 1.

ItsOnlyGil

Retired





Posts

: 1145


Trader Points

:





Although the colors found on these clearer mini cards are in alignment with those typically available from ESCO, and not encountered in mini nor full size w517s; I do not believe that these postcard back ESCOs are the source for most of the clear image mini cards encountered. This thinking is in part attributable to not encountering mini cards which have a portion of the postcard visible on their back.

Admittedly this "not encountering" may be due solely to my status as a collector who by the nature of that orientation, does not handle a significant number of cards. It could be that these postcard cut outs are culled from the "herd" before they get to a dealer's display. So actually, it is more appropriate for me to leave comment on the frequency of minis with postcard back portions appearing in the marketplace, to those with experience adequate to address the subject.

I do note however, that I have only identified three examples of complete 4 on 1s, containing the proper font style. There certainly could be more in piles of low to mid grade 4 on 1s which are both unnoticed and of relatively little perceived importance to the hobby.

Any thoughts, observations, etc. which you may offer could help us understand what is really here.
Thank you, Gil

ItsOnlyGil

Retired





Posts

: 1145


Trader Points

:





First post, I know you guys
Appreciate for the link Gil,
Great looking set and I have no minis. But do have one 4in1 Exhibit (PC back), and a #4 purple (? rose) .
There doesn't seem to be much known on the origins of this set. Is a Philly candy manufacturer still the likely distribution point and "Champions" the suspected brand?
Seems strange that this info is still vague with such a large amount of these cards around. 1909-11 I can see, but '31?.. On the otherhand, the Goudey plant , downtown Boston is not much larger than a typical three-story brownstone. -Steve F

fdnyladder7

Minor Leaguer





Posts

: 5


Trader Points

:





I certainly agree that the uncertainty regarding a relatively recent set seems inappropriate. This spring, I'm sure to visit my uncle who is in his mid-80s, and this time I will think to ask "do you remember buying baseball cards from a machine in a candy/newspaper/magazine/soda store, when you were a kid ?
Could be an interesting opener to a conversation, but probably not.

There has got to be many 80+ year olds who still remember clearly (enuff).

Credit where it is due: many of the scans used in this thread were contributed by Frank Ward and Brad Green.


And welcome Steve !
Your input is sure valued.

ItsOnlyGil

Retired





Posts

: 1145


Trader Points

:






ItsOnlyGil

Retired





Posts

: 1145


Trader Points

:





Page 2 of 2 •
1, 2
---
Permissions in this forum:
You
cannot
reply to topics in this forum