I recently picked up this Overall Cycle back with the assumption that it is a 460 back. This was/is one of the 11 possible 460 backs I did not have confirmation of. Am I just hoping or is my assumption that the number in the dark part of the tape a part of a "6".
All opinions are welcome.
Happy Holidays,
Lee
Simple solution, compare it to one with a complete back and see how it matches up. I'd tell ya to do a scan overlay, but I know you aren't tech savvy enough to do that, so eyeball it.

Jay

_________________
Jay

I like to sit outside, drink beer and yell at people. When I do this at home I get arrested, so I go to baseball games and fit right in.
Dunderhead





Posts

: 7140


Trader Points

:





The piece of tape with the number on it appears to have been moved at some time so an overlay would not be a solution.

Lee
I could be wrong, but I don't think that Overall comes with a Cycle 350 back.
Hi Steve, from the data I was looking at it is suppose to come in both 350 & 460. Here should be a better scan: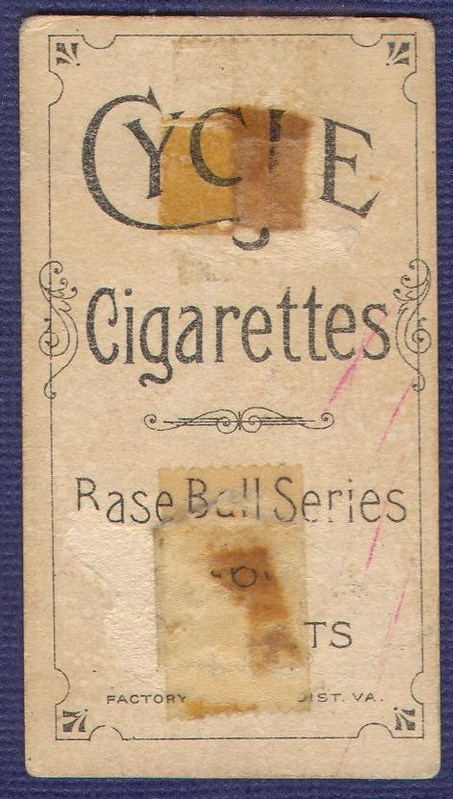 Lee
It's a 350/460 card, but the spreadsheet I have shows it without a couple of 350 backs. I think the Super Set sheet, on which I based mine, is the same way. Not saying that a Cycle 350 doesn't exist, but looking at the blown-up scan, I'd say it's a definite 460. Which is good for you.
Steve, I think you brought up a good question. It appears that this card does not come in the Cycle 350, this puzzles me.

Lee
Lee, I went back to check Scot Reader's e-book on the Monster and only the super-prints of the 350/460 series have Cycle and Broadleaf 350 backs. I think non-supers are missing a few other back types that aren't designated with the series. Carolina Brights and maybe another. If you don't have the PDF file, I can e-mail it to you.
Thanks Steve,

I actually have been rereading Scott literature, it has been a couple of years.

Lee

Similar topics
---
Permissions in this forum:
You
cannot
reply to topics in this forum