I was wondering if sets that are all portraits such as E107's, T204's, M116's , Colgan's & Fan Craze are all taken from Carl Horner portraits
are those prototype allegheny cards also horner portraits? w600s? did horner really sat those trappers down for a photo E?

cccc

Hall of Famer





Posts

: 2550


Trader Points

:





Though most of the E107s are Horner portraits, I don't think that all of them are. I don't have proof of that, but certain items make me believe that. For example, the image of McGinnity was taken as a profile. That is not very Horner-like as he seemed to have his subjects relatively square to the camera. There are other folks here who are far more knowledgable about Horner's work, so I'll defer to them.

I think it is fair to say that as a rule of thumb, the E107s and Fan Craze images are Horners, though. Colgans look to have some of the same images as well, so Horner probably did a lot of those as well. I know that Horner did do at least some of the T204s too.

Jeff, care to weigh in?

terjung

Legend





Posts

: 935


Trader Points

:





I know there are a few from these sets that are obviously not horner portraits, the recently found thorpe colgan's comes to mind as it's obviously not a Horner. but considering the vast scope of his work. I can just say Thank God for Carl Horner.

The obscure minor league players from sets like colgans has me wondering if he was doing minor leaguers as well as major leaguers.
Many of those minor leaguers were former major leaguers, so it's possible Horner took photos of them when they were in the majors and the card companies made the appropriate changes.
Here's your proof Brian...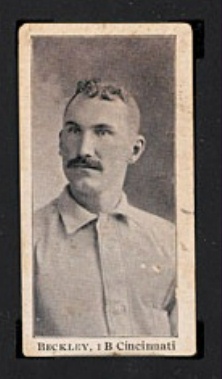 (stolen scans)
Last edited by Bicem on Sun May 16, 2010 5:02 pm; edited 1 time in total

Bicem

Hall of Famer





Posts

: 545


Trader Points

:





I can't see the first image in that post, Jeff, but given that you posted Beckley and he isn't in the other sets, I'm going to presume that it was his E107 that you posted.
(Not my card)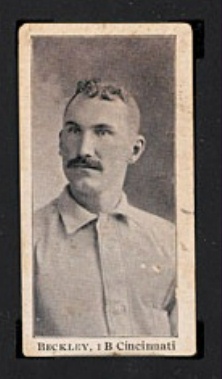 Some nice work to remove the "Pittsburg(h)" off his chest since he was over in the Queen City by 1903.

terjung

Legend





Posts

: 935


Trader Points

:





yep, that was it Brian, strange it was showing ok before. I fixed the link.
He does have a Fan Craze... and I believe it's a Horner picture. I think all Fan Craze cards are but not 100% sure.

Bicem

Hall of Famer





Posts

: 545


Trader Points

:





---
Permissions in this forum:
You
cannot
reply to topics in this forum