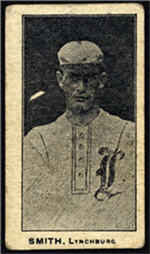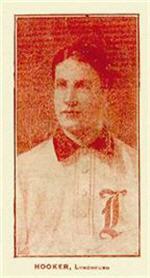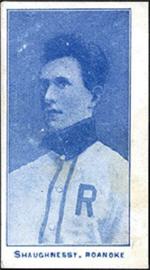 Gil's posting of a bunch of these cards in the virtual set area got me thinking. These cards are rare enough that most people are happy with a type card. Imagine trying to put together a master set of all color and back variation.
Gil posted a bunch of color variations, but didn't post any backs. If memory serves me right there are at least 4 different backs.
Anyone know how many different colors there are for the front?
Jay
I like to sit outside, drink beer and yell at people. When I do this at home I get arrested, so I go to baseball games and fit right in.
sabrjay
Dunderhead
Posts: 2282
Trader Points:
Re: e222s
TheRiddler Yesterday at 6:09 pm
I do not know much about the set, but apparently back variations include both "A. W. H." and "A. W. A.", also noted: Fulton Press, Richmond Va. on some. There are typeset and border variations on the backs.
12 players have been identified to date. Guiheen, Hooker, McCauley, Revelle, Ryan and Shaugnessy appear in the t-206 set with the same image.
TheRiddler
MVP
Posts: 499
Trader Points:

TheRiddler

Custom





Posts

: 1404


Trader Points

:





The E222 set consists of 12 cards printed and distributed in Richmond, VA in mid 1909 to possibly early 1910.

Guiheen - Portsmouth*
Hooker - Lynchburg*
Ison - Richmond
Lipe - Richmond*
McCauley - Portsmouth*
Otey - Norfolk*
Revelle - Richmond*
Ryan - Roanoke*
Shaughnessy - Roanoke*
Sieber - Richmond
Smith - Lynchburg
Titman - Richmond

Eight of the player images (*) share the same image as their T206 counterpart. Of the 12 Virginia State League players featured in the T206 set only these 8 were included in the first group of 34 Southern Leaguers which were included with Hindu cigarettes in the late summer of 1909. The images for the E222's were taken from these cards.

The other four player images were cropped from a Richmond team photo with the jersey portion of the image being hand drawn. Arthur Smith began the 1909 season with Richmond and would have been included in an early team photo with the other three but was traded to Lynchburg mid season.

The cards were produced by Fulton Press, a small print job shop owned by brothers Frank and Arthur Smith. The small batch size printing allowed for multiple border, font, and color changes during the cards production and distribution run.

The cards were distributed by Arthur W. Havens a local Richmond candy maker.

Not including different colors there are 6 standard back variations with different combinations of font and border designs. There is one know A.W.A. back card which I believe to be a typeset error.

If anyone has any questions regarding this set feel free to contact me and I will help if I can.

Abravefan11

Major Leaguer





Posts

: 81


Trader Points

:





you are the research king.
collectors have been wondering about the AWH origin for many years. thanks for sharing.
now find me the Revelle..

Jim Rivera cfc1909

MVP





Posts

: 376


Trader Points

:





Similar topics
---
Permissions in this forum:
You
cannot
reply to topics in this forum