I have not been in the vintage card hobby for very long so whats up with the story of Daniels owning all/part of the find in the 1990's?

The thread on Net 54 says something about a interview by PSA concerning the Tango Eggs discovery. Also says something about a known Cobb Tango Eggs that he may not own but says he does.

Mark

Square_Frame_Ramly

FC NCAA Bracket Champ





Posts

: 2773


Trader Points

:





Mark, as all of us who have been around for a while know for a fact, you cannot believe anything Daniels says. When I first ran into him over 10 years ago, he told me he owned a Drum Cobb. Turns out every card I have ever wanted or owned, he claims to own one in a much higher grade - he did this with the Cocoa Cobb when I first owned one (I eventually owned two over the years). Then, when I checked out the population report, there were NO OTHERS. Daniels then claimed his was mislabeled by PSA as a T206. When I have asked him for scans of these cards, he never produced them and starts ranting that I don't believe him.
I have included the letter from the family the Tango Eggs came from. The REAL STORY is these were sold off by Mr. Mint to a few dealers. Daniels then obtained some from one of these sources. Now, he claims to have found the Tango Egg discovery years later and also claims there to be cards in the discovery that were NEVER there - like a Wagner and another Cobb pose! Rob Lifson, in an auction, offered a $100k reward for these cards Daniels claims were in the find (a reward simply to show Rob the cards). Needless to say, Daniels didn't have the cards, as he claims, or he would have claimed the reward for showing his cards!
Daniels is a very shady character. I would advise anyone to NOT believe anything he says and to stay away from him. Afterall, he use to talk about me being "like a younger brother to him", then, he stole almost $900 from me!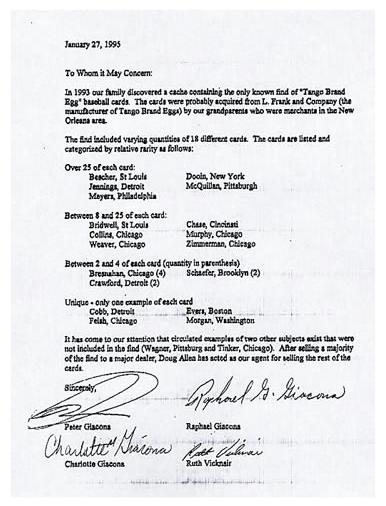 scott elkins

Inactive




Posts

: 581


Trader Points

:





Similar topics
---
Permissions in this forum:
You
cannot
reply to topics in this forum