Here's an odd item from my collection. It's a colorful old map issued by Gunther's Beer in 1935, featuring sports records of Cobb, Ruth, Mack, Bobby Jones, etc. I don't have it infront of me, but I recall it measuring approximately 25" x 35. Really kind of a neat piece with some great baseball content - I've been meaning to have it framed but still haven't gotten around to it.
_________________

Ben
Admin





Posts

: 4280


Trader Points

:





Cool items, Ben. Definately needs to be framed.

Lee
Lee -

Sorry but I don't think any of the pencil toppers out there are period. I have a similar Paige that I did some research on and found out was a fantasy piece.
Major Leaguer





Posts

: 59


Trader Points

:





Thanks Dave, I have always thought the yellow one seemed of a newer period, but the green one I have hope that it might turn out to be older. Any idea about when they were produced? Pencil toppers have not been around for a long time. I don't remember them growing up in the 70's.

Lee
Off the top of my head I can't remember when they were produced, but 70s and 80s is the most likely. I think they were fantasy pieces sold at flea markets etc.
Major Leaguer





Posts

: 59


Trader Points

:





There are authentic Cleveland Brown pencil clips the were sold at the ballpark from 1948 to 1952. Not sure when the others were made or how to tell the authentic Browns clips from newer pieces.
Here's a '33 Buffalo Bison puzzle - don't see too many of these: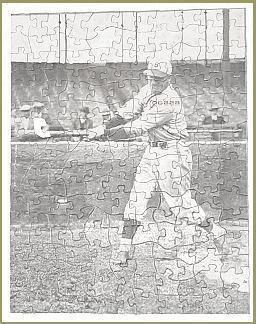 FC NCAA Bracket Champ





Posts

: 178


Trader Points

:





Can't say I ever say a baseball puzzle that old before. Cool item Glen.
How about a Dockman candy box with prize and authentic c.1910 piece of candy?
All Star





Posts

: 176


Trader Points

:





If the candy is that thing in the bottom right, it looks like a shrunken mitt. Cool items, can't say I ever say one before.

Lee


Similar topics
---
Permissions in this forum:
You
cannot
reply to topics in this forum