I'm not exactly letting the cat out of the bag here; we all know about the inconsistencies of card grading. However, just to throw some fuel on the fire and elicit some informed opinions that might enlighten me about the variances in this particular art, I'm throwing these items out there, which are currently available for bid on ebay (the front Doyle image has been cropped to eliminate the seller's name):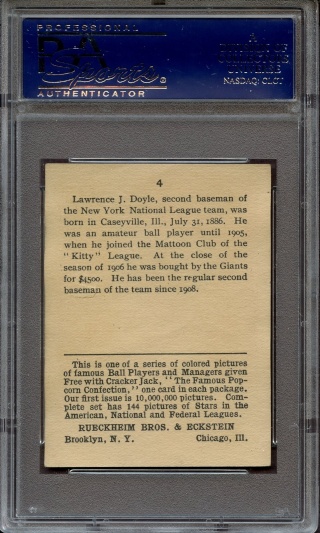 The Doyle card is better centered, has better corners, and is much cleaner. Yet, both are 3's. Are there likely justifications for this? Elements of how PSA grades that I'm missing? Or is this the obvious discrepancy that it seems to me to be?
Just curious to see what others think.

LucasRiley

MVP





Posts

: 426


Trader Points

:





The top card looks like an old school VG so I don't have a real problem with the grade. The Doyle does look undergraded. That said if you look at the back at the last line of text the 'baseman' appears to have a extra blob of paper or a tear. I'd have to see the card to know what it is. Also if you look at the center area without text it appears to have a light crease.
yea, and CJs have light creasing or folds that's really tough to pick up on scans. of course we'd take the doyle every time.

psa is inconsistent tho. i just sent a batch to them and don't understand the logic card to card, whereas sgc you kinda know the general direction of the grades...or maybe my grading line up better with sgc.

cccc

Hall of Famer





Posts

: 2550


Trader Points

:






benjaminplante

Major Leaguer





Posts

: 26


Trader Points

:





Actually, your Goudey is the very definition of VG. No creases with rounded corners. Not a "pretty" VG but the classic definition of one.
and the ruth is a 2, with just a wrinkle on the front. i thought for sure it'd be a 3, example of the inconsistency within the same issue. i think 2 different graders graded the 2 cards and each applied their own grading scale.

cccc

Hall of Famer





Posts

: 2550


Trader Points

:





I recently cracked a '56 Topps Packers team card out of it's Beckett EX 5 case and had it graded by PSA.

PSA gives in a NM 7!

Contrary to popular belief, this proves that cards DO heal over time!

benjaminplante

Major Leaguer





Posts

: 26


Trader Points

:





---
Permissions in this forum:
You
cannot
reply to topics in this forum