I recently took up skeet/trap shooting and LOVE it! Its definitely a good time. I like getting out there and making noise, and not having to get all messy cleaning up my kills at the end of the day like you do with game hunting. Anyone here ever go?

browncow75

MVP





Posts

: 329


Trader Points

:





Yes, I'm an Eastern Washington redneck. Love to shoot.... Got a mount for a clay pigeon thrower in the bed of my truck. 10 minutes out of town and you had better be wearing orange. Great hunting in these parts; elk, deer, and lots of fowl. I recently picked up a Winchester 1500 XTR. What kind of guns do you shoot, just trap?


pariah1107

Legend





Posts

: 799


Trader Points

:





Just bought a Browning "Golden Clays" Sporting Clays 12 gauge. Its only capable of handling the 2.75" shells for target shooting, but its a heck of a nice "entry level" gun imo. Being in a wheelchair, its hard for me to find places I can get around to hunt, so this is definitely a fun alternative for me! This is a picture of the exact same gun I have (not my pic)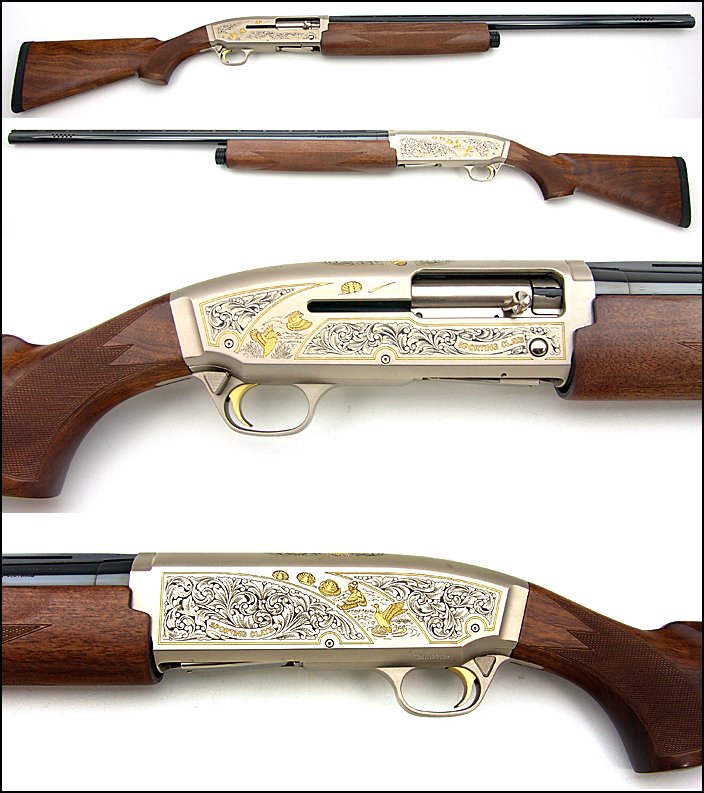 browncow75

MVP





Posts

: 329


Trader Points

:





That is one beautiful gun! Those 2.75 shells still pack a good wallop... Do you use any gun mounts on your wheelchair? Seen some pretty awesome designs.



pariah1107

Legend





Posts

: 799


Trader Points

:





No mounts or anything. Im pretty lucky in the fact that I am still very mobile, and have full use of my upper body. I dont even use hand controls to drive. I was born with spina bifida, which thankfully only manifested itself as weakness in my legs. I use the chair full time, but can stand if I am holding onto something. I love the outdoors, and fishing and shooting are some of my favorite fair-weather hobbies. I also have a custom built .308 with a bull barrel and Leupold scope. It was built in '06 using a Mauser 98 action and laminated walnut stock. On a good day I can shoot 1.5" 5 shot groups at 400 yards!

browncow75

MVP





Posts

: 329


Trader Points

:





Those bolt-action .308's are great guns... and that's sniper range. Great shooting! Hell, an inch and a half that's a butterfly downrange.

The early king salmon/steelhead run should be starting on the Columbia River next month... I can't wait. Now, that the salmon ladders and hatcheries are working OT to maintain a sustainable fishery the Columbia River has been stocked with huge, trophy fish.

pariah1107

Legend





Posts

: 799


Trader Points

:





Thats awesome! Ive never salmon/trout fished before. Not really too many good places for those species here in St. Louis! There is a pretty nice trout spot I heard about last year, but its still a 2-3 hour drive, so I will probably stick to my local catfish/bass honey-holes!

browncow75

MVP





Posts

: 329


Trader Points

:





Sounds like there some pretty good oppurtunities to get outdoors in the St. Louis area. I came across this article on wheelin' sportsmen, sounds like they got a chapter in your area. Don't know if you have checked this out but sounds like a great chance to get in some shooting, fishing, hunting or just sightseeing.
http://www.stltoday.com/news/local/columns/susan-weich/article_7906fadc-c4bb-58d1-80f0-3de787682629.html
I am a Nurses Assistant and have gone shooting with a couple clients over the years. The Kittitas County Outdoorsmen offer these guided, private property turkey shoots; Dutch oven cookouts, accessible trail works and platforms. Always good for bagging great game.

pariah1107

Legend





Posts

: 799


Trader Points

:





Similar topics
---
Permissions in this forum:
You
cannot
reply to topics in this forum