What would you pay to buy this CSA card?
If you were to take a risk, what is the maximum price you would pay to purchase this CSA 8 t205 Clarke. The seller says he can not guarantee them to cross over to PSA or SGC so you won't get a refund if it is rejected by other companies.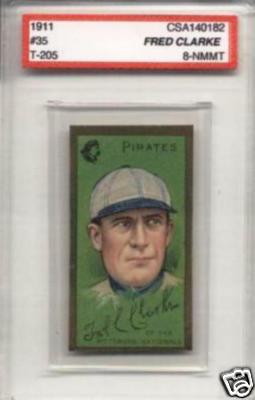 http://cgi.ebay.com/NM-MT-8-T205-GOLD-BORDERS-FRED-CLARKE-T-205-SMR-4-500_W0QQitemZ300264594937QQcmdZViewItemQQptZUS_SM_Sports_Cards?hash=item300264594937&_trksid=p3911.c0.m14&_trkparms=72%3A1205|66%3A2|65%3A12|39%3A1|240%3A1318

arandy

MVP





Posts

: 299


Trader Points

:





That image is a little deceptive as the shadow at the bottom makes the card appear longer then it actually is. It seems to be way short.
If it was a scarce card that I might not otherwise be able to acquire, I'd consider it. But given that T205 Clarkes can be found rather easily/affordably, I'd pass on this CSA graded one. There's no chance that bottom border gets by PSA or SGC.
_________________

Ben
Csa??? No thanks. My vote is a big "PASS!!!!!!

Tony A.
I agree that the bottom border is almost definitely trimmed. But I wouldn't mind paying $10 for it just because it still is a nice looking card.

-Randy

arandy

MVP





Posts

: 299


Trader Points

:





Seeing as $0 is an option, I guess I should have voted B. I don't think I'd pay more than $25-30 for that card though.
_________________

Ben
I probably should have made the price range $1-$100 instead of $0-$100 because most collectors would take any card for free!

-Randy

arandy

MVP





Posts

: 299


Trader Points

:





I'll pass if it is described as having Clean White Borders for a T205 by the seller????

t2069bk

Major Leaguer





Posts

: 44


Trader Points

:





SGC and PSA will render an "A"

I would pay about $40 if I wanted it for my collection, it has great eye appeal.

r337man

MVP





Posts

: 433


Trader Points

:





---
Permissions in this forum:
You
cannot
reply to topics in this forum