I was just looking through some of the features and decided to add some more scans. I started looking through other users cards. Found the ones with captions especially interesting. I encourage other to make a folder and if you have a comment about the card to add it.

If I remeber right we have a rule to post only one card from your collection on the front page, let us know Ben if this is wrong.

Lee

bowlingshoeguy

Sultan of the Cycle Back





Posts

: 3106


Trader Points

:





Good call. The link to the Gallery can be found on the top menu. We are currently using about 55% of our storage space in the Gallery. So people are welcome to post a few of their favorite cards there, either in the group album, or in their own personal album that you can create. All that I ask is that scan file sizes be kept under 60kb. I had to remove a few scans because they were 300+ kb each and were taking up the majority of the Gallery's storage space.
While the storage space in the gallery is limited, our storage space for uploading/posting pics on the main board is unlimited...so everyone can continue to fire away with the scans as usual.
_________________

Ben
Still 44% of our gallery space is available, anyone who doesn't have a personal album yet is welcome to start one. That way your favorite card(s) can be on permanent display in the gallery. All that I ask is that you keep your file sizes reasonably small (60kb or under would be perfect).
Also there's a 5 star ranking feature in the gallery that hasn't been used much. Here are a few gallery stats just for fun: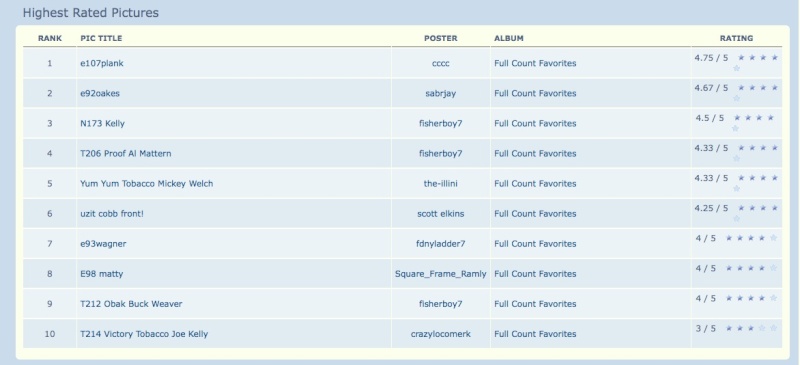 Here are stats for the personal albums: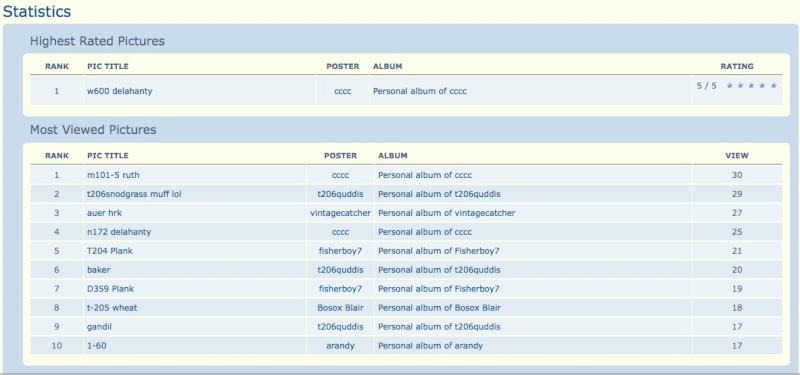 _________________

Ben
I think I did something wrong. I posted a Fan Craze Wagner and 1) forgot to label it and 2) a t206 Wagner shows up.
Is there a way to edit?

Bicem

Hall of Famer





Posts

: 545


Trader Points

:





Bicem wrote:Is there a way to edit?
Not sure why the T206 Wagner showed up as your thumbnail. Maybe a prophecy of some sort?
I deleted it so you get a do-over Jeff. Let me know if I can be of any help.
_________________

Ben
Similar topics
---
Permissions in this forum:
You
cannot
reply to topics in this forum