1889 E.R. Williams game cards
-52 cards in the set, although only 19 of them contain player images.
-On the 19 cards containing players, there are two portraits per card.
-Not listed in the ACC
-Cards contain baseball phrases such as "home run", "three base hit", "struck out" etc which facilitated how the game was played.
-Backs picture a generic player printed in green ink.
Scan of front & back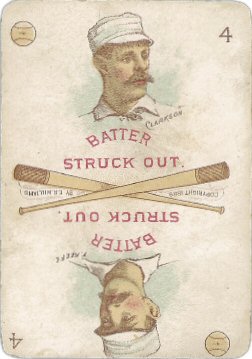 ....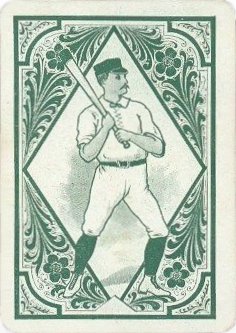 Checklist:
1.Cap Anson/Buck Ewing
2 Dan Brouthers/Arlie Latham
3 Charlie Buffington/Bob Caruthers
4 Fred Carroll/Hick Carpenter
5 Roger Connor/Charles Comiskey
6 Pop Corkhill/Jim Fogarty
7 John Clarkson/Tim Keefe
8 Jerry Denny/Mike Tiernan
9 Dave Foutz/King Kelly
10 Pud Galvin/Dave Orr
11 Jack Glasscock/Tommy Tucker
12 Mike Griffin/Ed McKean
13 Dummy Hoy/John Reilly
14 Arthur Irwin/Ned Williamson
15 Silver King/John Tener
16 Al Myers/Cub Stricker
17 Fred Pfeffer/Jimmy Wolf
18 Toad Ramsey/Gus Weyhing
19 Mickey Ward/Curt Welch
_________________

Ben
Admin





Posts

: 4280


Trader Points

:






---
Permissions in this forum:
You
cannot
reply to topics in this forum