T207
By Randy, Full Count member
Iíve wanted to write this article for a long time. In my opinion the t207 brown backgrounds are one of the most overlooked sets. People take one look at the front and decide that it is an ugly set. But I feel everyone should know about this work of art.
Made in 1912, t207 was the last tobacco set created by the American Tobacco Company. This was mainly because the ATC was broken up by the Sherman anti-trust act just a year before they were made. As The Encyclopedia of Baseball Cards says "
It is hard to imagine what the Company had in mind when they issued T207 in 1912
". The front of the card was very simple. It was a picture of a player in front of a dark brown background. There was a white box under it showing the players name and team. It also has an awkward shade of beige for their borders.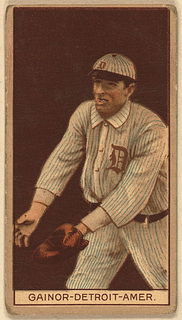 What is so surprising about the t207ís is that they lack many star players of that time. Players like Christy Mathewson and Ty Cobb do not exist in this set. But this set has many scarcities. Players like Miller, Rasmussen, Ragan, Donlin, Ellis, Kuhn, Rath, Saier, and Steele are some of the most difficult cards. The back advertisements also vary in terms of rarity. Little Recruit Cigars make up more than 90% of all cards. The rarest back is Red Cross Tobacco. Only 10 exist in the world. Other backs include Cycle, Broadleaf, Napoleon, and an anonymous back.
The set has 13 hall of famers and a total of 207 cards in the set. The main colors used are brown, black, white, and red. There are also hints of blue in the images. The backs contained a short bio of the players career. Some biographies contained funny content.
As great as this set is, not many collect it. A lot of the cards are rare but like I said, this set does not get love. Actually, the GAINOR card shown above (common) sold for 8$ at a card store. Most t205/t206 commons in this condition could sell up t0 30$ or 40$. This set will live on as ďthe ugly ducklingĒ. But it is one of the most fantastic sets.
-
About the author: Randy is new to pre-war cards and canít wait to collect more. His favorite set is the t205ís.
Work Cited
- "T207 "Brown Background" Overview."
t207.com
. Online. 2008 12 April 2008.
- "1912 T207 Brown Background." geocities.com. Online. 2008 12 April 2008.
- Bill Cornellís e-mails
_________________

Ben
Admin





Posts

: 4282


Trader Points

:







Similar topics
---
Permissions in this forum:
You
cannot
reply to topics in this forum