http://www.ebay.com/itm/1929-Leader-Novelty-Candy-co-original-baseball-Stars-BOX-very-rare-/400419018894?_trksid=p2047675.l2557&ssPageName=STRK%3AMEWNX%3AIT&nma=true&si=7O3%252B596Ef8NVg6NCW%252Bwptz8wdlE%253D&orig_cvip=true&rt=nc


This is the only known original box to the very rare 1929 Leader Novelty Candy baseball cards. It was listed that the cards were cut off of the back of the box which is ludacris since this picture shows a complete full box with no player card on back and just missing a flap.

The interesting part of this box is that it is factory diecut for whatever reason, running down from top to bottom, left to right, along the edge of the playing field that is pictured. I have no idea why.

Also, there are 4 slits that are perfectly placed to hold all 4 corners of one of these very thin cards.

I am wondering if the baseball card was on the outside of the box with all 4 corners tucked into the slots or if it was on the inside of the box with the corners tucked in and you would have to rip the box badly to get the card out without hurting the card, hence why maybe there are not more of these colorful neat little boxes around.

Naturally this is all just my opinion but I thought I would share it to see what others thought.

Thanks
Dan Mckee
very cool Dan and nice win. By the looks of the box, I can't see where a card was cut from it. Can you post a scan of one of the cards.

I am not familiar with this issue but maybe the cards were inside the box but clearly not cut from the box
MVP





Posts

: 376


Trader Points

:





Very neat item. Always nice when there is solid evidence about distribution instead of just speculation.

_________________
Jay

I like to sit outside, drink beer and yell at people. When I do this at home I get arrested, so I go to baseball games and fit right in.
Dunderhead





Posts

: 7784


Trader Points

:





Sure here is one:

http://www.ebay.com/itm/1929-Leader-Novelty-Candy-Pat-Malone-baseball-card-RARE-tough-Chicago-Cubs-/370765571814?_trksid=p2047675.l2557&ssPageName=STRK%3AMEWNX%3AIT&nma=true&si=B6VbrsX6rZib5tKunOv6StXwnJM%253D&orig_cvip=true&rt=nc
Nice grab Dan.
I don't think the cards were put on the outside of the box--it would have obscured the advertising and artwork that they took the time and trouble to produce. They likely would have put the card on the back if the idea was to keep it on the outside.
It may be that they put it on the inside and then through the slits, and that the die- cut was there for the kid to put a thumb through and gently push the card out into the box, maybe after the candy was gone. Seems like unnecessary work and it would have been better/easier to just let the card rest free inside, but who knows. Also, maybe the slit was for some coupon that accompanied the card and candy, although it looks like the premiums were obtained just by mailing in the boxes themselves (which might also explain why there are so few left). It will be interesting to see how the size of the card measures against the size of the packaging, once you have it in hand.
I know I've posted this before, but here is a later package from the same company that is baseball related--won on ebay for something like 8 bucks.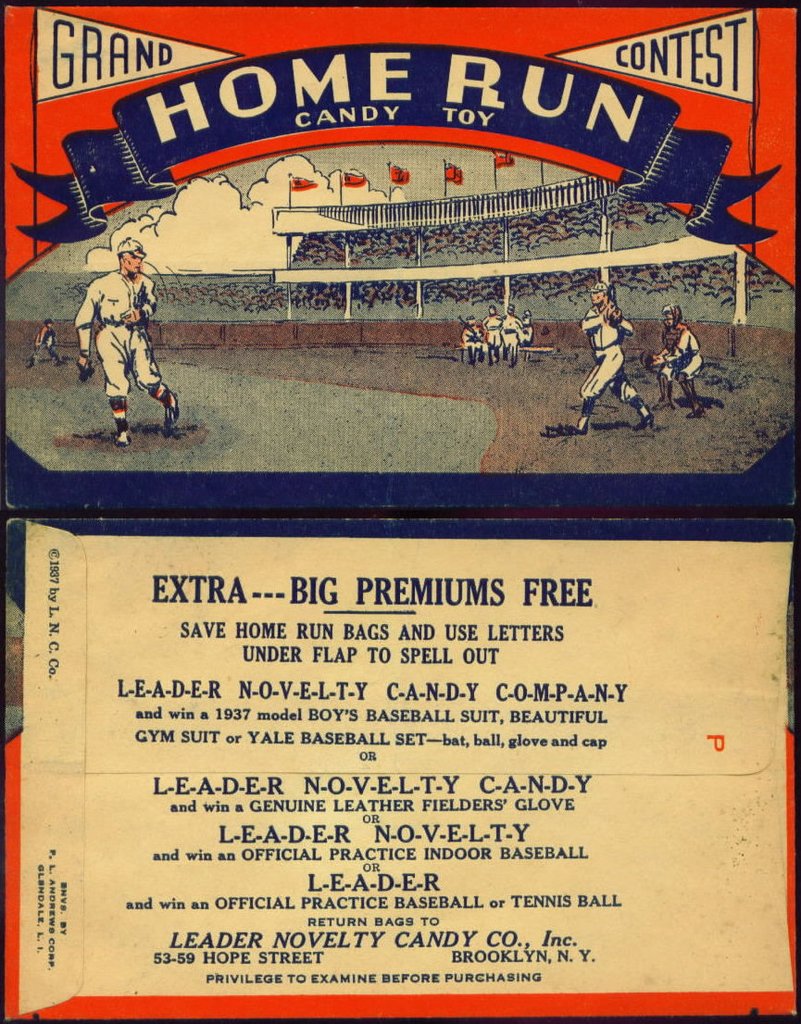 [/img]
Hall of Famer





Posts

: 552


Trader Points

:





Very cool! I have one of those somewhere I think! 8 bucks, now that was a good deal for sure! I have the box and cards in hand and they line up perfectly (card and slits). I like your idea of the card being inside the box and the die cut allowing the kid to push the card free. That makes good sense to me. Dan.
Dan...This is a very cool, and rare box. I also have a complete box. The missing top flap on yours reads "Privilege To Examine Before Purchasing" and the copyright. The diecut front panel would allow the card to be neatly tucked in and the candy would keep the packaging firm and minimize creasing. Along the lines of E-120 & other caramel cards where you could see who you were getting before you bought the product ..
Minor Leaguer





Posts

: 21


Trader Points

:





Awesome! May I have a scan of my missing flap part? I would truly appreciate that. What about the 4 slits in the box? Does yours have these? thanks Dan.

Similar topics
---
Permissions in this forum:
You
cannot
reply to topics in this forum