having trouble uploading sorry
it looks like the one copy on ebay in a glass case

Last edited by DUSTINDYALN12345 on Thu Jan 10, 2013 7:24 pm; edited 1 time in total
We'd be happy to help. What kind of info are you seeking? Just if it's real or fake?

Seems like you're having trouble uploading the image. Send the scan(s) to benfisher77(at)gmail(dot)com and I'll post them for you.
_________________

Ben
YEA I AM...I TRIED 10 DIFFERENT WAYS AND NO LUCK ..I AM BUYING A HOUSE OUT..... WHERE THE GUY SENT ME A PIC OF THE FAN HE IS INCLUDING THIS AND TONS OF OTHER STUFF .. IF ITS REAL HOW MUCH CAN IT BE WORTH I SEEN 6600 AND 50,000 ON EBAYI PUT A PIC OF IT ON PHILADELPHIACREIGSLIST.ORG IF U WANT TO TAKE A LOOK ... OR I CAN EMAIL IT TO U .....THANKS
thanks ........is it real or wort anything? how do u tell?
Hard to tell with the fuzzy scan. I do know that the "Fan for a Fans" were heavily reproduced, so there's a good chance this one isn't authentic to the period. But I don't have a whole lot of experience with these, so let's wait for some others to chime in. If I had to make a guess, I'd say FAKE but there's always a chance.
_________________

Ben
Doesn't look legit to me, but is tough to tell based on the blurry, angled scan. The stick on the Cobb you are asking about looks odd and the letters on the top should be red. At first glance, the letters on yours don't look red, but that just could be the picture. The back should have the image of a baseball on it. Also look for slightly corroded staples to indicate age. A lack of corroded staples is not a deal-breaker, but it could indicate that a repair has been made, which would lessen the value if authentic.
Here is a link to a Matty that sold less than 2 years ago for $5,500.
http://sports.ha.com/c/item.zx?saleNo=717&lotIdNo=280001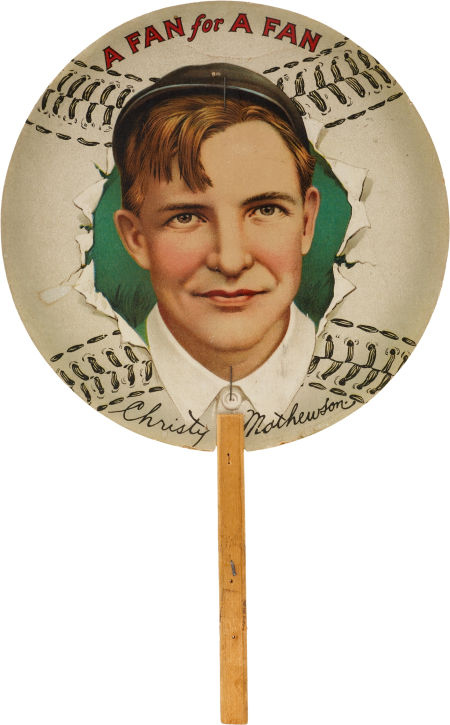 Here is a link to a Cobb that sold for $6,600
http://www.legendaryauctions.com/LotDetail.aspx?inventoryid=109351&searchby=0&searchvalue=None&page=4&sortby=0&displayby=2&lotsperpage=100&category=1&seo=Circa-1910-Ty-Cobb-%22Fan-for-a-Fan%22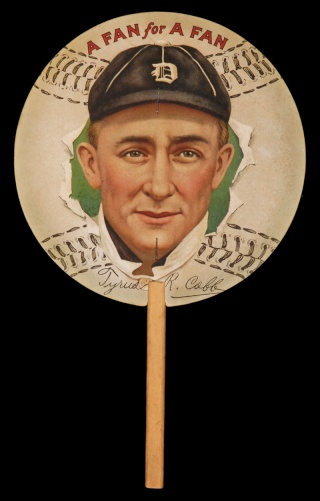 At this point, I'd say questionable authenticity at best. More info is needed to say definitively, but it doesn't look good to me at first glance.
Last edited by terjung on Thu Jan 10, 2013 8:21 pm; edited 6 times in total
Legend





Posts

: 935


Trader Points

:





Here is another Cobb that sold for $5,000
http://www.huntauctions.com/online/imageviewer.cfm?auction_num=21&lot_num=1036&lot_qual=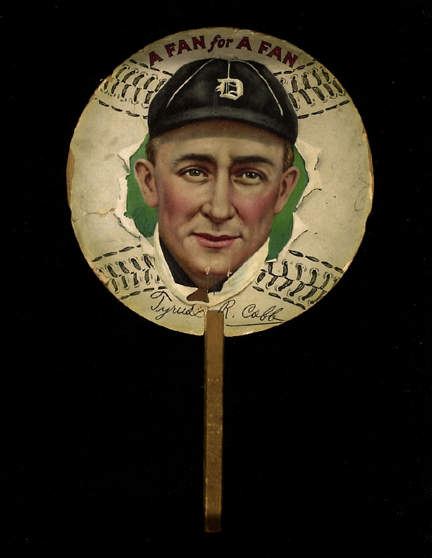 Legend





Posts

: 935


Trader Points

:





I didnt know that I would get so much help tanks for your time......if I get it u will be the first ill show it if its real....someone said if it has a staple in the neck , but that would be so easy to fake.
Good post Brian, sounds like the red letters and baseball pattern on the back will be the telltale signs. Like you said, the stick looks way different which is also a red flag.

The images on the authentic examples have amazing color and detail. The Cobb and Matty fans posed in this thread just pop off the page. You can't fake that.

To the thread starter, I'd pass on that Cobb unless somehow it looks way better in person.
_________________

Ben

---
Permissions in this forum:
You
cannot
reply to topics in this forum