I am curious if the different issues such as T205 Hassan's were distruted the same way as T202s and any other issue that may have similar tobacco ads.

Lee
I have some good info to ad in this thread but it will take me a day or two to get it together

Nice subject Lee.
MVP





Posts

: 376


Trader Points

:





T80 Military was issued with Cairo Monopol, Lenox, Old Mill, Tolstoi and Uzit cigarettes. The majority or most common being Tolstoi. Four of these brands were also part of the T206 set.The only brand excluded was Cairo Monopol.
The Lenox and Uzit brands are more difficult than their counterpart from t206. The Old Mill is far more difficult that Old Mill baseball. There was an estate find in Saverna Park Maryland of 20 Old Mills and that doubled the known population. So there are less known examples of Old Mill military than there are of Broad Leaf 460.
The Uzit letter issued to the distributing factory states there are to be one military and one baseball subject issued in each pack of cigarettes.
Cairo Monopol is another extremely difficult back. I have only seen one ebay auction for this back in 12 years.
The t80 set has a check list of 50 with five different backs and at the present we know of at least one blank back.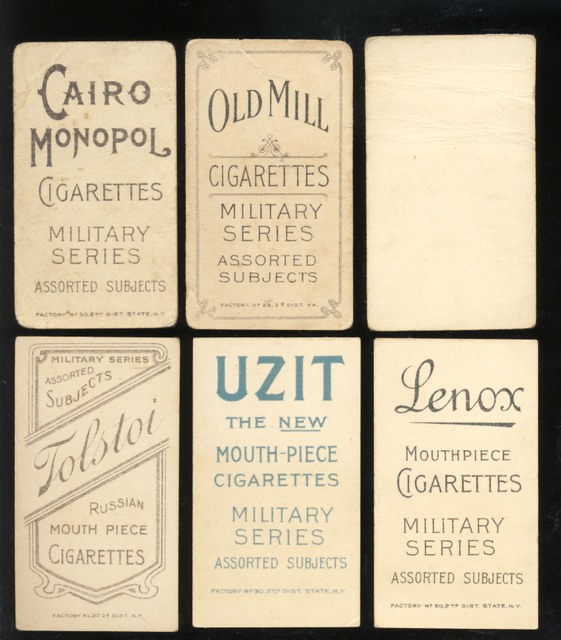 MVP





Posts

: 376


Trader Points

:





Great stuff. Curious how the fronts look like T205 minor leaguers and the backs like T206s. Do you have distribution dates on the T80's?

Lee
Did the purchaser of the cigarettes have any idea if the were buying packs with baseball players or was it a crap shoot to get a non-sports card?

Lee
Lee - Two cards were inserted into each pack of Uzit and Tolstoi and more than likely Lenox and Old Mill as well. This is confirmed by letters that were sent out to retailers informing them that one each of the T80 and T206 subjects would be inserted into each pack. Also the letters are dated February and March of 1911.
Tolstoi Letter
Uzit Letter
Major Leaguer





Posts

: 81


Trader Points

:





Lee - your original post is a great question, but as far as I've ever been able to figure out, T202s (since that was your original question) were distributed in the same manner as the T205s. I've seen countless Hassan packs, but I've never seen any sort of configuration dating to the relevant time period other than the long flat design. Accordingly, it just seems logical that T205s would have been issued in the same manner.

On a side note, I did see a Hassan pack opened at one point - it contained a beautiful (albeit off-centered) T202... and nothing else.
All Star





Posts

: 146


Trader Points

:






---
Permissions in this forum:
You
cannot
reply to topics in this forum