Just bought my first pre-war baseball card. Looks similar to the E122 and the W573 cards, but has a blank back. Also it looks suspiciously clean. Any comments?
I've also noticed that on all the examples I have found online, the text on the front of the card is on the left end instead of the right.

It's a nice looking card and I found it for pretty cheap. I'm only out $15 total is it's a repro of some kind.
Best thing you can do is buy SGC or PSA graded cards. That way you know they won't be repro's. Welcome to the board!
Custom





Posts

: 1709


Trader Points

:





Thanks for the welcome!


and btw, forgot to mention that it's a 1922 card.
Welcome mortatort!

What you have there is a nice, authentic W573 strip card. And yes, it's from 1922. Pretty much identical to the E120 American Caramel set, aside from the checklist back that E120's have.

W573's were printed on vertical strips of 10 cards....so yours has been handcut off one of those strips, which explains the somewhat wavy cut on the right side. I think it's worth about what you paid ($15) but not a whole lot more. Nice card though, and good pickup for someone who's new to prewar.

If you have anymore questions, don't hesitate to ask! There are plenty of good folks on this board who are willing to help.
_________________

Ben
Admin





Posts

: 4280


Trader Points

:





E120..
that's
what I meant to say. Thanks for the reply Fisher. I didn't even notice the wave in the cut until you mentioned it, in spite of having thoroughly looked over the card several times.
Any guess on what this might grade as? I've got a few post war cards that I may get graded and I could send this one too for just a few bucks more. More of a personal satisfaction thing vs a dollar decision. Three corners are pert and one is a little split, but barely.
Here's the back
I'm afraid it might not receive a numeric grade, and will be rejected as not meeting minimum size requirements. This happens sometimes with strip cards-- I had this one meet that fate with SGC a few years ago, and it seems to have more border than yours: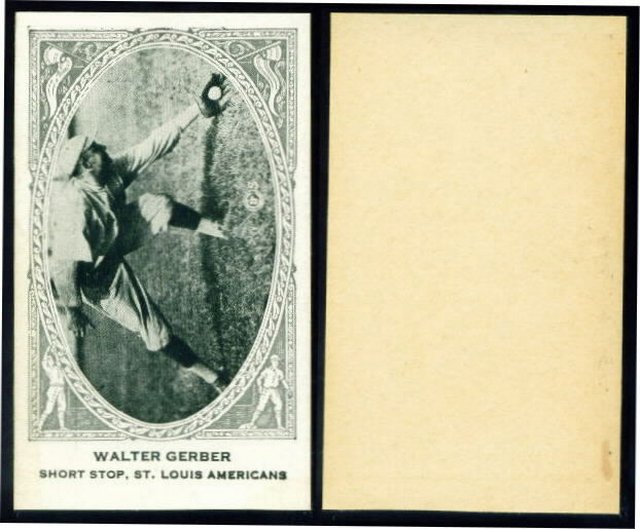 If it is graded, it looks like a small wrinkle in the upper right corner (as the card is shown) extending down to the "L" in Nationals would knock it down to a SGC 40 or PSA 3, maybe one grade higher.
Still, a nice card. Good luck.
Hall of Famer





Posts

: 552


Trader Points

:





Getting strip cards graded is a crap shoot IMO. Here' my W573 and it has less border that the one posted above.
And for fun here's the same Ford image as the OP on a V61.
Major Leaguer





Posts

: 81


Trader Points

:





agreed with both todd and tim. w cards sometimes get numerical grade, and sometimes they don't. just depends on the weather that particular day and whether the grader is paying attention.

(i managed to pull both weather & whether in the same sentence and didn't mess them up)
Hall of Famer





Posts

: 2546


Trader Points

:





Nice cards there ABravefan11 !!
Looks like we may be competitors for the same cards

I'm doing braves from the present to as far back as I can afford. Right now I have back to '51, w/ only this card dating prior. If you do the same perhaps we can trade extras sometime??
Thanks mortatort. Though I don't have many duplicates or extras I'd be happy to help out in the future if I can.
Major Leaguer





Posts

: 81


Trader Points

:






---
Permissions in this forum:
You
cannot
reply to topics in this forum