Page 2 of 2 •

1, 2

crazylocomerk wrote:OK, I'll play.

T216 Cobb (standing) or Wagner (throwing or batting) with a MINO back. Or if it exists.....either Cobb (standing/batting) with a Virginia Extra back. I'd pay just to see a VE Cobb!
Sorry to bring this back to the top after so long, but I just found out that in the upcoming SCP auction, they have a T216 Wagner throwing with MINO back in PSA 1 condition. As originally stated this is a huge one from my ultimate want list. Anyone have about 6K to loan me?
Bummer it became available now, when I can't really do anything about it.
Rent the wife out to pay for it.

Lee
Sultan of the Cycle Back





Posts

: 3106


Trader Points

:





Sell the car. They just pollute the enviroment anyway

_________________
Jay

I like to sit outside, drink beer and yell at people. When I do this at home I get arrested, so I go to baseball games and fit right in.
Dunderhead





Posts

: 7784


Trader Points

:





eric needs a car cuz when he brings home that wagner mino and his wife starts going elin nordegren with a 3-iron he can make a quick getaway.
Hall of Famer





Posts

: 2546


Trader Points

:





haha...you guys are too funny.
I don't know how the wifey would respond to me asking if I can rent her out to pay for the card. I just don't see that going very well
terjung wrote:at the risk of sounding like a broken record... my dream card is an E107 Wagner.

I don't own one yet, but it is the card that got me into the hobby (or perhaps I should say back into the hobby).
Forgot all about this thread and don't remember posting in it to begin with.
I suppose, however, it is necessary to follow up in this thread (even though I already posted the pickup elsewhere here before), but I did end up getting my dream card.
...not in dream condition like that most excellent SGC 40, but I'll take it nonetheless.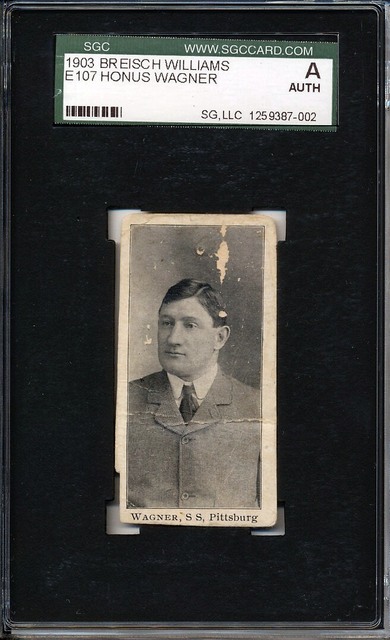 Legend





Posts

: 935


Trader Points

:





Awesome Brian! Congrats on knocking off the E107 Wags from your dream card list. That's quite an accomplishment!

I hope to knock mine out in the next couple of years.
Eric -

That's a nice looking 1 too! Good luck!
All Star





Posts

: 176


Trader Points

:





rman444 wrote:Eric -

That's a nice looking 1 too! Good luck!
Thanks Richard, but when I say I'm out on this one, I unfortunately mean it. Maybe next time.
Well, for what it's worth, I don't think that the only other 1 level Mino Wagner that I saw sell ever hit $6k. I think it sold in the $4.5-5k area. Who knows, you might get lucky and steal it at much less than $6k!
All Star





Posts

: 176


Trader Points

:





Page 2 of 2 •

1, 2


Similar topics
---
Permissions in this forum:
You
cannot
reply to topics in this forum