Pete's new E100 pickup inspired me to start this thread. I've always really liked the look of E99's and E100's. Some really unique poses in the set. So let's see yours!
Also, which set do you think is tougher?
I have two, both E99's: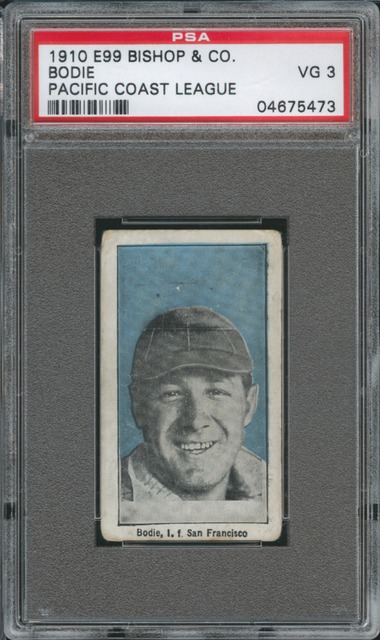 _________________

Ben
Last edited by fisherboy7 on Thu Dec 24, 2009 8:25 pm; edited 2 times in total (Reason for editing : to crop Jim's scan)
MVP





Posts

: 376


Trader Points

:





The disembodied heads are creepy

Jay

_________________
Jay

I like to sit outside, drink beer and yell at people. When I do this at home I get arrested, so I go to baseball games and fit right in.
Dunderhead





Posts

: 7784


Trader Points

:





Hopefully ya'll don't mind if I post an image that isn't mine, but I thought it would nice to get some more images of these cards out there for people to see.
I have a small niche collection of horizontal cards from sets of the typical t-card size so this one is currently on my wantlist.
Like Ben said in his original post, I really like these sets as well, but will probably only go after a horizontal example when I can.
Regards,
AndyH
All Star





Posts

: 178


Trader Points

:





CobbSpikedMe wrote: but will probably only go after a horizontal example when I can.
Doesn't Brian McQueen have that exact Cutshaw available for sale now?
_________________

Ben
Here are some e99 and e100 images from the baseballcardresource.com website. Dan Studebaker is a big bishops guy, and I imagine at least several were his at one point, if not currently.
One way of telling the difference between the two sets is the e99's have a thinner inner border than e100's for the most part. There are also differences in the type font of the caption.
_________________

Ben
Sorry to post so late, but I have been a bit busy lately. Not much to add except that I haven't seen any e100 Type IIs posted. These have different fonts, are usually cropped diefferently, and are blank backed. Not many of them are out there with most residing in advanced PCL collection. Many have "Alfred" written on the back in pencil.
Major Leaguer





Posts

: 59


Trader Points

:






Similar topics
---
Permissions in this forum:
You
cannot
reply to topics in this forum