Here are the backs: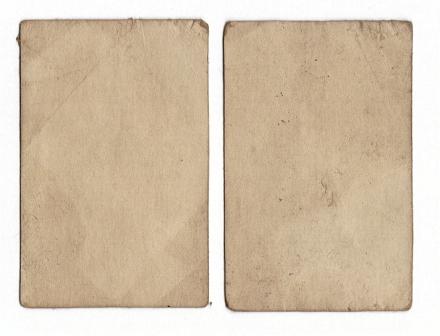 And here is the story, so far -
Help identify 1880's Baseball Card? Anyone...
--------------------------------------------------------------------------------
Hi, I am a vintage collector of the 50's & 60's. I did find ( in my collection ) these two old cards ( minor league I'm guessing ). Anyone have any info on
these 2 old relic's? Thanks, DInoPro
They are fake Kalamazoo Bats cabinets.
Kalamazoo Bats cabinets measure 4¼" by 6½" and come in two varieties: the first with a black mount and a gold embossed "Smoke Kalamazoo Bats" advertising, and the second with a blank mount and no advertising. The pair above resembles the latter type, but to me these appear PHONY. The card stock looks cheap and the photo quality has nowhere near the clarity of an original. Don't get fooled by these.
Here is a scan of what an authentic, unmarked K-Bat cabinet should look like:
_________________

Ben
Admin





Posts

: 4280


Trader Points

:





I was gonna say that the fence in the background looked a lot like the fence seen in my K Bats. Ben is probably correct. These are poor quality fakes that will only fool someone with too much money and not enough knowledge.

Jay

_________________
Jay

I like to sit outside, drink beer and yell at people. When I do this at home I get arrested, so I go to baseball games and fit right in.
Dunderhead





Posts

: 7784


Trader Points

:





Epilog ...

DInoPro admits that the cards are not actually albumen photographic prints, nor the product of any more recent actual photographic process. However he stated that he wonders how a copy can be made from a photograph.
I will offer no comment on that.
Ben is of course correct. They are painful fakes, but ones I have never seen before. The player with bat is George Wood.
Major Leaguer





Posts

: 59


Trader Points

:







Similar topics
---
Permissions in this forum:
You
cannot
reply to topics in this forum