I was looking through a past REA catalog today and saw a B-18 Cobb and a handful of others with red infields.
I'm not sure how many are familiar with these, but as far as B-18's go, the red infield versions are by far the most rare. With the recent exposure of the T206museum.com's link to the fake black overprint Old Mills, it made me think about how easy it would be to fake these red infield B-18s.
What do you guys think about this? Should people be more cautious of these than they were before? Don't you think it would be one of the easier things to fake as opposed to making an e94 overprint that actually looks vintage? I mean, a nice condition common B-18 isn't too hard to find and then to simply dye the infield or color it doesn't seem to hard.
Here is one of mine (not red obviously) for reference of the issue and the Cobb red from REA: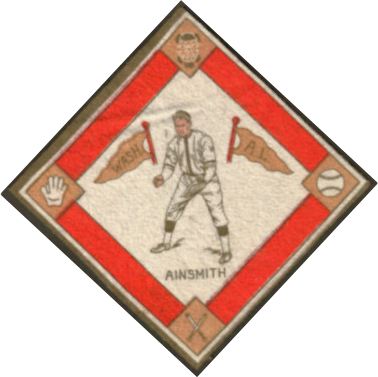 Thanks,
AndyH
All Star





Posts

: 190


Trader Points

:





I have never died anything in my life on purpose, except maybe tie-dying a t-shirt in my hippie days, but I would think it would be tough to dye the infield without messing up the rest of the blanket. But where there's money involved , I'm sure someone has done it.
The Relic





Posts

: 1579


Trader Points

:





I'm guessing too that being able to just dye the infield would be tough. I haven't had a b18 in my hands in a long time, but I don't think the colors bleed thru like dyes do today. There is a lot more going on here than faking a stamp, which I personally think would be much easier.

Jay

_________________
Jay

I like to sit outside, drink beer and yell at people. When I do this at home I get arrested, so I go to baseball games and fit right in.
Dunderhead





Posts

: 7784


Trader Points

:





I guess what I'm really asking is: Do you guys think these red infields are all legitimate variations or not?

I know some people are wary of any Old Put e98 since it's a stamp that could be added by someone even today, making it quite difficult to be sure it is a vintage stamp or not. Should people have this same view of red infield B18s

AndyH
All Star





Posts

: 190


Trader Points

:






---
Permissions in this forum:
You
cannot
reply to topics in this forum