I have a Beck (uncatalogued) stamp...can't find any info on VCP. It is in EX cond. but a off center.

Thanks
Hi Mark,

Have you got a scan? Also, what are you using for a reference for the checklist? I know when this set was discussed in the past the the millerhouse guy said he had 6 stamps that were not cataloged I believe. Now if we can figure out who the millerhouse guy is we sould get some more info on the set.

I have only seen one professionally graded T330-2 graded higher than 50 and that I believe was a Cobb, I would love to compare that one to my Tinker 50, I can't find anything that would justify the 50 grade it is a beautiful stamp.

Lee
Sultan of the Cycle Back





Posts

: 3106


Trader Points

:





You shouldn't have licked it before you sent it in

Jay

_________________
Jay

I like to sit outside, drink beer and yell at people. When I do this at home I get arrested, so I go to baseball games and fit right in.
Dunderhead





Posts

: 7784


Trader Points

:





I have rounded up this information from Dan Gantt:

I am the correspondent to whom Lee has been referring. The current SCD lists 116 different Piedmont Art Stamps. (Although its numbering goes to 119, three numbers are skipped.) I can vouch for the existence of all but 23 of those from my own collection. Assuming that all that SCD lists do actually exist, I can add two more to the list from my collection, Beck and the second T205 design of Barger, for a total of at least 118. I've been in touch with Bob Lemke and will forward copies of these for his verification.

As to whether blank backed T330-2s exist, I would seriously doubt it. They were originally issued as stamps, with the adhesive applied over the writing on the backs. As a result, if you have one with the writing on the back wholly intact and an even, light brownish cast to the back, odds are that the stamp has never been glued down. While anything is possible, unless the Mathewson referred to above has a very smooth, glossy back and is some sort of preliminary printer's proof, odds are far better that it was previously glued down and its back stripped upon removal -- in which case it might deserve a GAI 1!

Hope this helps.

Dan Gantt
Sultan of the Cycle Back





Posts

: 3106


Trader Points

:





Lee,

Have you ever thought about having SGC re-grade your Tinker? Is it possible there's a tiny speck of paper loss on back?

Do you still have your Cobb and Matty? And while I'm on a roll, what is your take on the variance in size on these? Would make more sense if they were all evenly sized, but it's apparent when you compare them, there is a lot of variance.

Mike
Major Leaguer





Posts

: 39


Trader Points

:





here is scan of Stamp....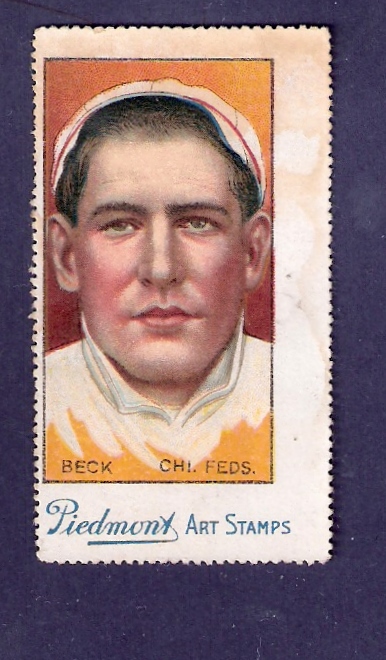 '
Mark,

Is that the one that David Slomer had up on e-bay as a BIN? If you don't mind me asking, were you able to negotiate the price a little bit? I was watching it, but it did not sell while he had it up. Just wondering.

Mike
Major Leaguer





Posts

: 39


Trader Points

:





They are all Slomer's cards i have. He broke his hip a few weeks ago and needs to have a bunch of cards graded, then sold. I am good friends with Dave and told him i would list them on B/S/T since he is not good with computers and listings.

I don't remember what Slomer was asking since i do not follow his cards that much.


Mark


Similar topics
---
Permissions in this forum:
You
cannot
reply to topics in this forum