Went to see the Cubs, Nationals, Orioles, Phillies, and Yankees over the summer. Loved Camden Yards and historic Wrigley. Washington was pretty dissappointing - expected more from a brand new stadium. Felt that way about St. Louis too, although it at least has a nice view of the arch. Still like the Diamondback's stadium, were the retractable roof can be closed so the AC can cool off the place. Some of those eastern parks were awful hot and humid.
Which parks do you like/dis-like the most?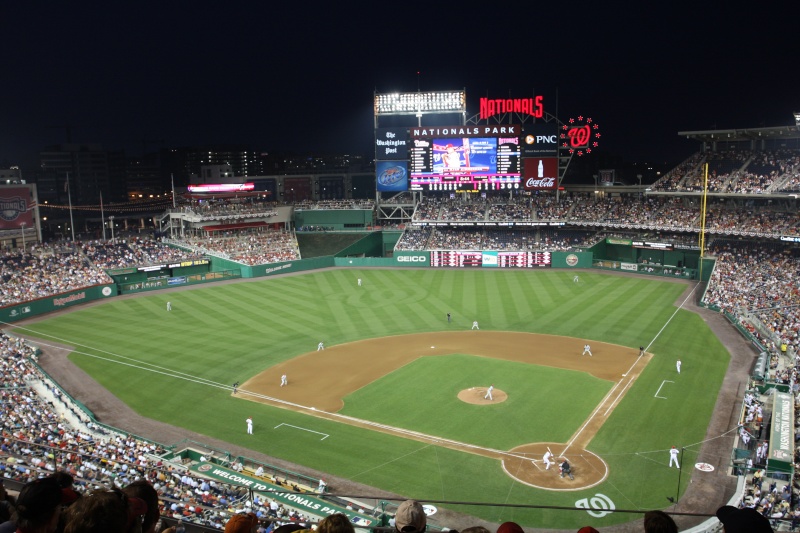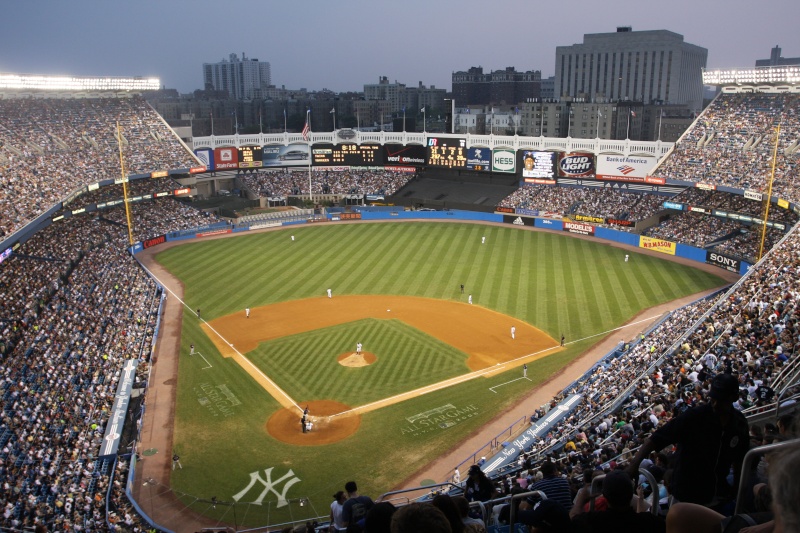 FC NCAA Bracket Champ





Posts

: 178


Trader Points

:





I've been to just about every park, except some of the newer ones, in existence since 1970. Wrigley is the temple of baseball. I got to see it before and after lights were put in. Still a great park with lights, but like it whole lot better without.

Of the Modern stadiums, San Fran is my favorite. The knothole in right field was a great idea and the Twins will have a similar feature in their new park. There really is no bad seat in SF and even in the upper deck, you feel like you are right on top of the action. Camden and Jacobs are great parks. The BOB was nice but wasn't that impressed. The other new park are nice and beat the hell out of the fishbowls most teams used to play in, but Camden, Jacobs and SF set pretty high standards for modern parks.

Jay

_________________
Jay

I like to sit outside, drink beer and yell at people. When I do this at home I get arrested, so I go to baseball games and fit right in.
Dunderhead





Posts

: 7784


Trader Points

:





camden with the immediate view of downtown buildings and the right field building is very cool.
Hall of Famer





Posts

: 2546


Trader Points

:





I've been to 2:

Metrodome - Sometime I hate it and sometimes I like it (never love it)...I can't wait for the new stadium
Wrigley - My favorite, love sitting in the bleachers with the sun and plenty of beer (before, during and after), you can smell history there.

I've been to some amazing soccer/futbol stadiums; they are some of the best experiences you can have for a sporting even outside of the US. Azteca, Azul, El Monumental de Nuñez, White Heart Lane, Santiago Bernabéu and Soldier Field (Brasil vs. USA & Mexico vs. USA).
MVP





Posts

: 322


Trader Points

:





Nice pics Glen. Some day I'd like to do a road trip tour of as many ballparks as I possibly can in one summer.
I've been to a handful of parks....some nice, some not so nice.
Olympic Stadium (Montreal Expos): I must have seen at least 30 games there. Simply awful. It was built with a retractable roof for the 76 Olympics, but the roof never actually worked. The design is terrible - looks like some kind of grey concrete spaceship of death. Inside isn't much better, and the fact that only a few thousand fans showed up for games in the last few years made it seem even more cavernous. It's also in a terrible location, 20 minutes drive from the city core in an area with little else to offer. Considering the huge turnouts they get for CFL games at the downtown stadium, you'd have to think the Expos would have survived if they had a nice park somewhere central. Had some great times with friends at Expos games in my college years though. I'm guessing this is the only Major League park that would have let us get away with sneaking in a case of beer and wreaking havok in the bleachers

I miss my 'Spos.
Skydome/Rogers Center: They've improved it in recent years with new turf that looks like real grass and the outfield wall is completely digitized too. Some of the players have complained about it being too hard when they slam into it though. The stadium is huge, cavernous, and not very nice looking. The retractable roof actually works though, which is a plus. Below average park overall.
Fenway: I've been 4-5 times (have lots of family in Boston) and it's always been a blast. Great atmosphere for a ballgame.
Yankee Stadium: Been twice, liked it for the same reasons as fenway.
Petco (SD): Went a few summers ago. Awesome park....nice view of the city skyline, affordable tickets, and the weather is always great. The nicest park I've been to. Would really like to see Camden as well.
_________________

Ben
Admin





Posts

: 4280


Trader Points

:





I have been on 5 baseball bus tours with Jay Buckley Tours. All great fun and well organized. The first trip had to have Cooperstown and was not disappointed. I have been to all the stadiums from MN to Houston to the east coast. The only ones I have not seen are the 2 Florida teams, Atlanta, Cincinnati's new park and Washington, plus Oakland and old Candlestick.
Favorite new park: PNC Park Pittsburgh, Comerico Park, Detroit (second)
Old park: I am partial to Fenway, Wrigley is definately nice but not great to watch the game.
Wrigley Rain Out.

Worst newer park: hands down Metrodome, I don't like the feel of Milwaukee
older park: Yankee Stadium, nothing about it did anything for me, Shea's seating really sucked with those box seat. I had no plans of going back to either of those stadiums.
I do hope to go on another to in the next year or 2 in hopes of seeing the 2 New York parks, Washington and Cincinnati.
Lee
Sultan of the Cycle Back





Posts

: 3106


Trader Points

:







Similar topics
---
Permissions in this forum:
You
cannot
reply to topics in this forum